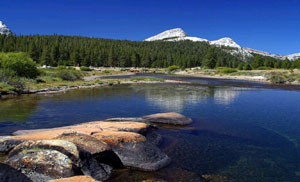 We in the Sierra Foothills garden in a modified Mediterranean climate, with the severity of the growing conditions depending much on the individual gardener's elevation. Our dry summers start early with temperatures of 100 degrees occurring as early as May and continuing until October in the lower elevations. We receive no rain at all during these hot months. Winters are not severe, but are certainly not the mild and temperate seasons known in other parts of the state. Depending on the elevation, temperatures regularly drop into the teens. Elevations above 5000' see a lot of snow.
While many classic alpine plants are not happy in our climate, with our long hot summers, we are still able to create beautiful rock gardens that harmonize with the surrounding countryside. In addition to providing an aesthetic backdrop, the rocks in our gardens create micro-climates beneficial to the cultural needs of many plants. They provide shelter from the severe heat of the mid-day sun, and also slow evaporative moisture losses. Our gardeners are able to successfully grow rock garden plants from the Western U.S., the Mediterranean, Turkey, the Balkans, and many other areas.
Wildlife predation is a constant challenge in the Sierra Foothills, where gardeners battle with deer, gophers, voles, and various other plant-hungry varmints. This list reflects a preference for plants that can resist wildlife predation in relatively dry sunny foothill gardens.