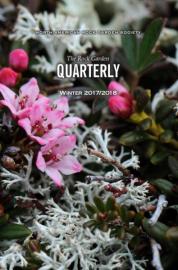 Inside:
The Barrens: Heathland of Newfoundland
A tour through the botanical treasures of the Newfoundland Barrens
Alpine Troughs at the Memorial University Botanical Garden
A description and history of the wide variety of beautiful troughs on display at the Memorial University Botanical Garden in Newfoundland, Canada.
Burnt Cape: Newfoundland's Botanical Hotspot
Burnt Cape is one of the botanically richest parts of Newfoundland, and this article takes us through the diverse plants to be found there.
Yunnan: A Plant Hunter's Paradise
Reflecting on two trips to Yunnan, Anna recounts the incredible flora of one of the most diverse places in the world.
A Journey Up the Rocky Road of Hepatica
Glenn holds the National Collection of Hepaticas in the United Kingdom, and has a long history collecting and studying this underappreciated genus that is so desirable for shady rock gardens.
Building a Pondless Waterfall
A professional water feature designer and installer gives detailed instructions on creating a waterfall to complement your rock garden.
Potted Pines -- and Spruces Too
Troughs and other containers are not just for tiny buns and alpines, conifers thrive there as well.
Drawing on information, photos, and experience sent in by NARGS members, this article is the membership's combined wisdom on the many many different ways you can create a trough.