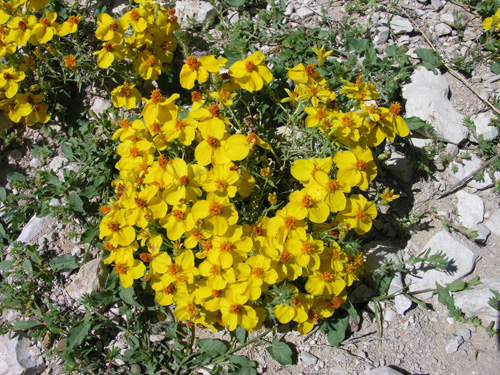 Description and general information
Unlike most Zinnia, this species is perennial. The sub-shrubby plant forms a low mound or mat 10-25 cm high and about 30 cm wide. The foliage is needle-like and grey-green. The bright yellow flowers are about 2 cm in diameter. and if given sufficient water, will bloom from spring through fall.
This species is native to semi-desert plains, foothills and open shrubby areas of southwestern United States and adjacent northern Mexico. Within the USA, it occurs in Kansas, Colorado, Arizona, New Mexico, Oklahoma and Texas.

Cultivation
This sun-lover is very drought-tolerant but if provided with a little additional summer moisture, will bloom all season. Provide a well-drained, sandy soil with lime added. Protect from winter-wet in eastern regions of North America. It is an ideal companion plant for any xeric planting and blends well with cacti, succulents and xeric penstemon. It is rated hardy to zone 4.

Bloom period
From late spring to early fall.

Propagation
Seed

Seed
Seed have a low germination rate. For best results soak in gibberilic acid 1

Division
Older plants may be dug and divided in early spring.

Cuttings
Not generally practiced.