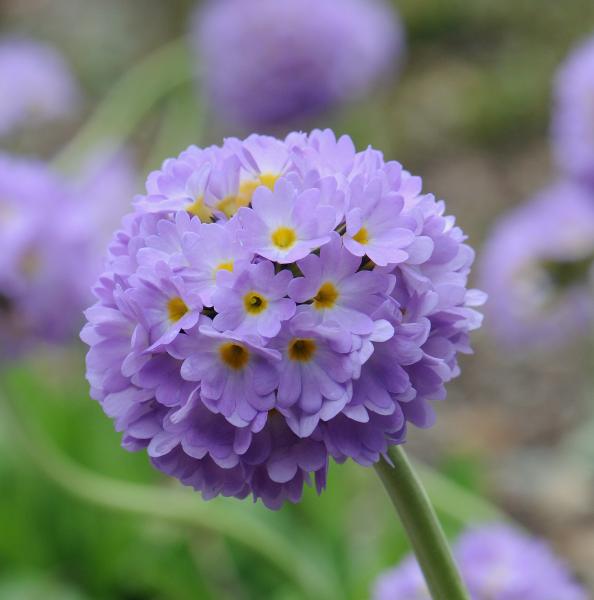 Description and General Information:
Drumstick primrose is native to a broad range of the Himalayas from Afghanistan and northern Pakistan to Myanmar and Bhutan. It grows in wet alpine meadows at an elevation of 1500-5000m. Plants, whose leaves asre produced in rosettes, have 20-30 cm long narrow-oblong to oblanceolate leaves with serrated edges. The lightly-fragrant flowers are produced in globular 10 cm diameter heads on stems 20-30 cm tall. Wild plants have light lavender-blue flowers but modern-day cultivars are available in white, shades of violet, purple, blue, pink to nearly red. In the wild, it blooms March to July.
Blooming Season:
March in the south to May in the north.
Cultivation:
Drumstick primrose may be grown in full sun in northern areas but appreciates part shade in warmer regions. The soil should be deep, fertile, highly organic and evenly moist. It can tolerate boggy soil but will not accept any degree of drought. It is hardy from zones 4-8.
Propagation:
Division, root cuttings, seed
Division:
Larger clumps may be dug after flowering and divided into individual rosettes.
Cuttings:
Root cuttings may be taken during the dormant season. Root cuttings should be 5 cm long on roots at least 5 mm thick. Plant roots so that the cut tops are level with soil surface and place in a frost-free frame until leaves appear.
Seed:
Seeds may be directly sown at 20 C with germination within 3-6 weeks.