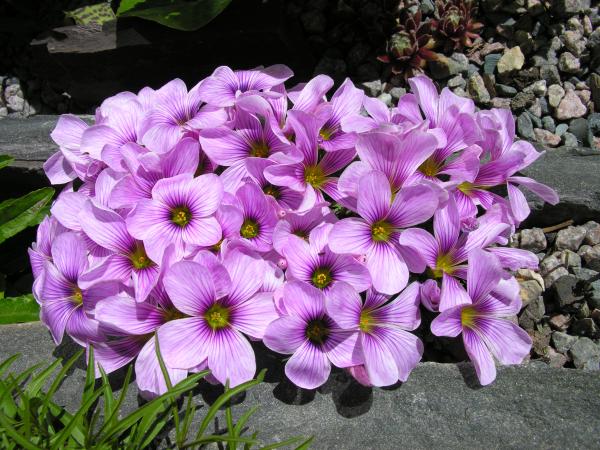 Description and general information
This shamrock is a hybrid between the two South American species O. laciniata and O. enneaphylla. Plants arise from a scaly bulb-like rhizome. Plants form a low mound about 5-10 cm in height. The finely-cut, whorl-like foliage is blue-grey while the relatively large (3 cm) trumpet to saucer-shaped flowers are violet with dark purple veins.
This shamrock has an Award of Garden Merit from the RHS.
Cultivation
This hardy shamrock requires full sun to part shade and well-drained gritty soil, preferably with some well-rotted leaf mold. It is not fussy about the soil pH, tolerating alkaline as well as acidic soil. It is among the easiest of the South American shamrocks and is hardy to zone 5.
Bloom period
This shamrock generally flowers from late spring to early summer, but in cooler climates, may bloom sporadically all summer. This hybrid generally holds its leaves all summer.
Propagation
Division
Seed
No
Division
Plants may be dug in early spring and the scaly rhizome broken apart.
Cuttings
No