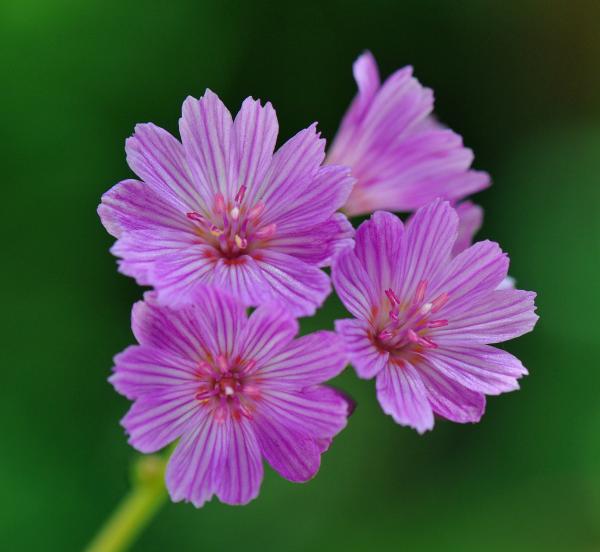 Description and General Information:
The Columbian lewisia has three distinct varieties. The variety rupicola is native to rocky cliffs and slopes of British Columbia, Oregon and Washington at elevations of 800-1700 m. It is distinguished by its 12-13 mm long petals and leafless flower stems. Their evergreen, fleshy leaves are linear and usually 2-3 cm long. Their flowers are commonly magenta-pink but BC populations are often very pale pink.
The variety columbiana is also native to the same regions but occurs at elevations of 500-2300 m. Its leaves are narrow oblanceolate and 2-10 cm long (generally longest-leaved of the three varieties). They have bract-like cauline leaves and their flower petals are usually 7-11 mm long. Flowers may be pale pink to magenta-pink.
The variety wallowensis occurs in Idaho, Montana, Oregon and Washington, at elevations of 1600-2700 m. Its narrow oblanceolate leaves are 2-4 cm long. It also has bract-like cauline leaves but the petals are 5-8 mm long and white with darker pink veins.
Cultivation:
This lewisia species requires full sun and well-drained soil, especially in winter, as they are very susceptible to rot in winter. It is very drought-tolerant, tapping into the moisture stored in their fleshy leaves. It is rated hardy to zone 4.
Blooming Season:
In the wild, populations bloom from late May to August. In cultivation, warmer growing areas may see blooms in late April while northern areas often see blooms in July.
Propagation:
Seed, cuttings
Seed:
According to the Ontario Rock Garden and Hardy Plant Society seed germination guide, sow seeds at 20 C for 6 weeks, then drop to 4 C for 6 weeks then raise temperature to 10 C for 6 weeks.
Division:
As the plant is tap-rooted, division is not practical.
Cuttings:
Individual rosettes may be separated after flowering. Let the cut ends dry for a few hours then simply press them into a well-drained mix where they will root within a few weeks.