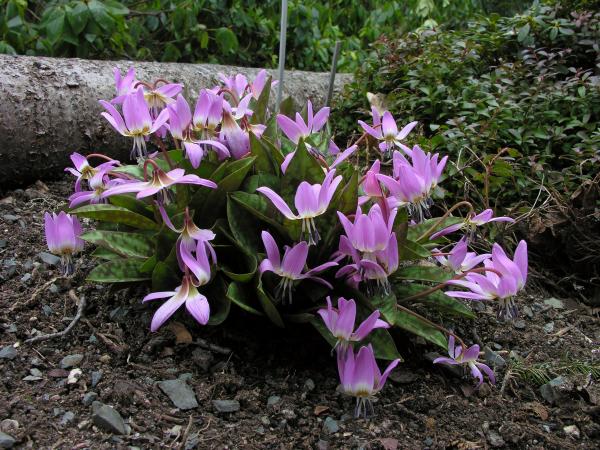 Description and General Information:
Dogs-tooth violet is the only European representative of the genus Erythronium. In the wild it may occur in open deciduous woodlands or extend higher in elevation to the sub-alpine and alpine zones. Arising from a narrow, dog-tooth shaped, bulb, plants produce a pair of oval shaped leaves that are distinctly mottled brown. The solitary flower, up to 3 cm across, have six, elegant, reflexed tepals which may be pink, lilac or white. It blooms as early as March in mild climate to as late as early May in more northern locations. In alpine zones, it blooms within a week or two of the melting snow.
Cultivation:
Erythronium dens-canis may be grown in shade to part-shade, in humus-rich but well-drained soil. It is not particular about the soil pH. It is ideal for growing under deciduous shrubs or in high-canopy hardwood forest. Combine it with other spring woodlanders such as Trillium, Uvularia, Hepatica and early-flowering Fritillaria. It is among the earliest blooming species within the genus. It is suitable for zones 3-8.
Blooming period:
March to May
Propagation:
Seeds, division
Seeds:
Sow seeds outside in autumn for spring germination.
Division:
Large clumps may be dug and divided just as the leaves begin to yellow.
Cuttings:
N/A