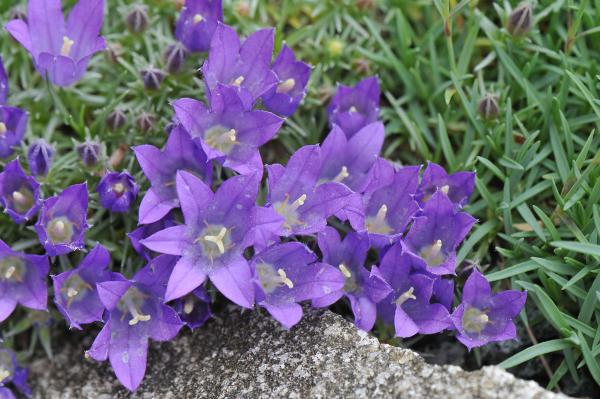 Description and General Information:
This species is native to Serbia, Montenegro and Croatia. where it grows in limestone crevices between 1500-2000m. Plants form a compact mound with 1-2 cm long, narrow silvery-green leaves. Short 1-3 cm long flower stems end in solitary 2-3 cm wide violet-blue flowers that sit atop the mounds. In the wild, the blooming season spans May and June. Well-grown specimens can have such abundant flowers that the foliage is completely hidden.
Cultivation:
Edraianthus pumilio requires full sun and excellent drainage with pH on the alkaline side. It is an excellent subject for the modern crevice garden. It also does well in troughs and pots. In open rockeries, scree conditions are best. It dislikes winter wet. Hardy in zones 5-8.
Blooming Season:
May in milder regions to as late as July in cooler areas.
Propagation:
Cuttings or seeds
Seeds:
Seeds may be directly sown at 15-20 C. Surface sow as they require light for germination.
Cuttings:
Short, non-flowering stems may be rooted as softwood cuttings after flowering.
Division:
N/A