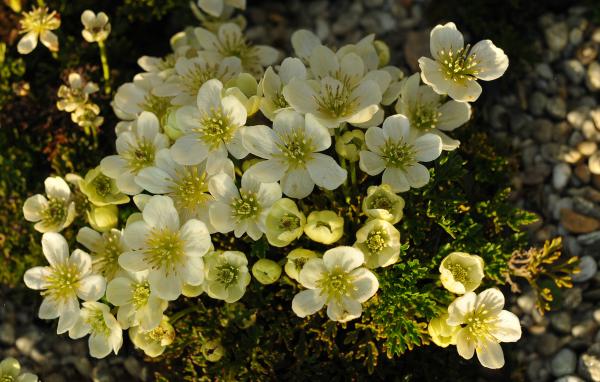 General Description:
This dwarf shublet clematis is endemic to two sites in Kahurangi National Park near Nelson, New Zealnd, where it grows on subalpine and alpine marble scree. Plants have a mat-like habit with evergreen parsley-like foliage and panicles of creamy-white 2-3 cm diameter flowers on 5-10 cm stems. Plants are dioecious with seperate male and female plants. Female floweers are slightly smaller than the males. In the wild, it blooms November and December.
Cultivation:
This species prefers alkaline pH and a gritty, well-drained site in full sun. It is rated hardy in zones 7-10. It is well worth growing as a pot plant overwintered in a cool but frost-free greenhouse in areas north of zone 7.
Blooming Season:
In the wild it blooms November to December but in the northern hemisphere, April and May.
Propagation:
Seeds; possibly cuttings
Division:
Not generally practiced.
Seeds:
Seeds must be fresh. Grow them cool 5-15 C
Cuttings:
Some sites suggest cuttings as an option but no details are available.