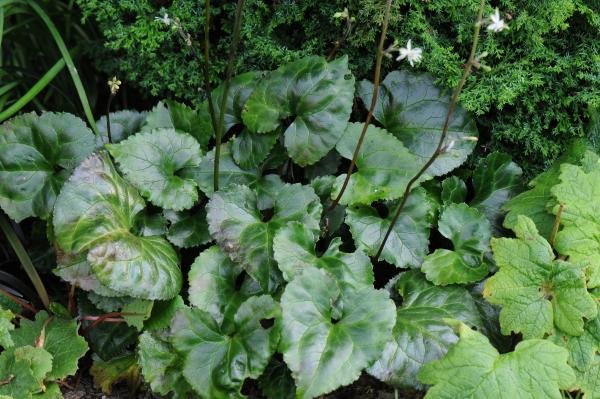 Description and general information:
Beesia deltophylla is an evergreen perennial groundcover native to forested slopes and moist meadows of China (Guangxi, Guizhou, Hubei, Hunan, Sichuan and Yunnan), growing at an average elevation of about 2300 m. Plants produce glossy, leathery heart-shaped leaves on relatively long petioles. In winter, the leaves often turn dark purple. Flowers are a secondary feature of this plant. They are small and produced on a leafless raceme up to 45 cm in length. Individual flowers have narrow, white sepals and a central cluster of creamy-white stamens. It is a member of the Buttercup family.
Beesia was named for the Bees of Chester, a British nursery firm that sponsored the plant-hunting expeditions of British plant explorers George Forrest and Frank Kingdon-Ward. However, neither Forrest nor Kingdon-Ward had the honor of introducing Beesia to Western horticulture. Horticultural consultant and plantsman Dan Hinkley first spotted B. calthifolia in 1996 in Zhongdian Plateau, Yunnan Province.
Cultivation:
This species can tolerate full sun in cooler climates but in most areas would be nest for dappled shade. They prefer a humus-rich soil that does not dry out. It is rated hardy to zone 6 but with a generous covering of leaves, can survive in zone 5.
Blooming Period:
In North America, this species may bloom from June through September.
Propagation:
Seed, division
Seed:
Fresh seed germinate best. A long stratification period is required for seed to break dormancy.
Division:
Large plants can be dug and divided in early spring or late summer.
Cuttings:
Not generally practiced.