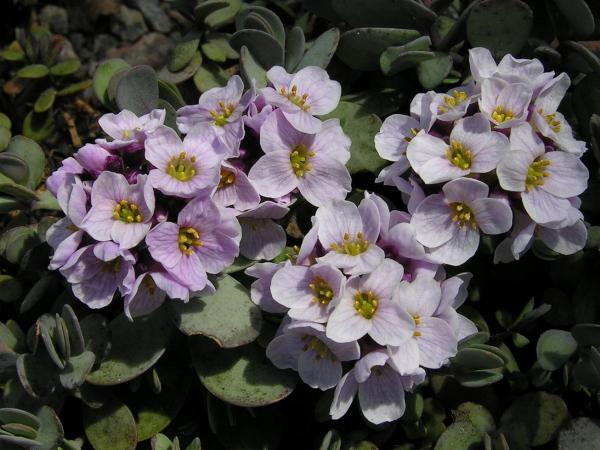 Description and general information
This species was formerly known as Eunomia oppositifolia and still occurs in some catalogues under that name. This stonecress is native from Turkey to Lebanon, growing on gritty, well-drained, limestone-based soil.
Plants form a low mound about 7-10 cm in height. The rounded leaves are opposite and a distinct blue to grey-green. Typical of the Mustard family (Brassicaceae) the flowers consist of four petals. The pale purple-pink blooms are held in small clusters and are highly fragrant. In northern regions, they bloom from mid-April to mid-May but futher south they may bloom as early as March. Plants are hardy in zones 5-8.
Cultivation
Full sun and a gritty, well-drained soil, preferably on the alkaline side, are preferred.
Bloom period
Generally April, but extends from March to May depending on your (northern) latitude.
Propagation
seed, division, cuttings
Seed
Seeds require a stratification period for best germination results. OVRGS suggests 3 months at 4 C followed by 3 months 20 C.
Division
Large plants may be dug and divided after blooming, however, this is not practiced very often.
Cuttings
Take 3-4 cm tip cuttings after blooming; pure sand as the rooting media works well or a 50-50 mix of sand and peat; keep lightly shaded during the rooting process.