I visited Victoria, B.C. last weekend - what a treat to see the green lushness and to smell the fragrant sea air! Here are some photos of the beautiful Abkhazi Garden, which you can read a bit more about here:
http://blog.conservancy.bc.ca/properties/vancouver-island-region/abkhazi-garden/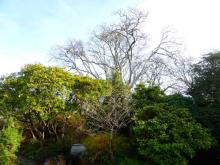 Scrumptious ferns:
Arum maculatum and some of the many Cyclamen; I wonder what the round leaf with the rippled edge is in the second photo? This third photo seemed to be some sort of giant, 5-foot tall Polygonatum sp(?):
Gingo biloba in golden leaf, unknown rhodo(?), stunning view:
I think this is a giant Equisetum; red Cotinus (please correct me if I'm getting these wrong - very, very few specimens were labelled); fern grove:
Fabulous bedrock exposures - the brilliant red bed on top is Persicaria/Polygonum sp.; vine with shiny purple seedpods - can anyone name it?; a small prostrate Cotoneaster(?)... and all the surrounding general wonderfulness!
Sedum obtusatum(?) and some other rock garden scenes...
Flannel bush, Fremontodendron californicum; more views: