Mostly just foliage these days...
Onosma nana; Glaucium flavum aurantiacum - wonder if it will survive the winter?; Salvia cryptantha seems very at home; adding some silvery symmetry - Campanula topaliana:
An update on some of this year's Eriogonum seedlings - still teensy: E. ovalifolium v. eximium; E. thymoides, E. sphaerocephalum v. sphaerocephalum:
Erigeron compositus var. discoideus has been blooming since late May!
Anaphalis monocephala is no slouch either and CORRECTION: Linum sp. (Convolvulus holosericeus) has been very impressive!
A late Townsendia parryi: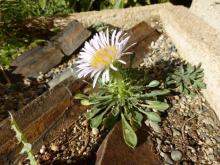 :
Orostachys spinosa (again) and Rosularia turkestanica (also again); a hip on Rosa minima - the hips are showier than the small, single, pale pink flowers (at least in the miserable fashion that I grow it, anyway); Antirrhinum molle: