What's looking interesting in your rock garden beds in August? I'm sure late season bloom or interest is important to all rock gardeners.
Here, Linum sp. (not Convolvulus holosericeus; come on, guys, please tell me when I'm screwing up!) continues to bloom nicely: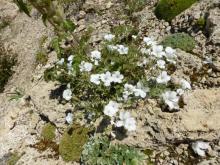 My Tonestus (Haplopappus) lyallii have finally recovered enough to bloom again after a traumatic transplant (evidently!) out of a disintegrating trough to the tufa bed... perhaps a pathetic little display, I suppose, compared to what I see in the wild, but I'm pleased!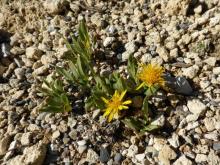 Scutellaria hypericifolia continues to bloom beautifully: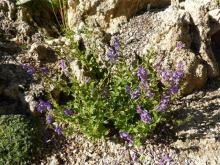 First flowers, finally, on Phlomis sieheana, from seed in 2010 (seeds from M. Pavelka; collected at 1500m from Salda Lake, Turkey); there are a few browning leaves on the inflorescence due to, I think, rather wettish conditions this year:
I need to figure out the name of this Campanula... it's not C. rotundifolia (or was not supposed to be) though it is certainly similar: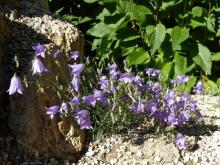 Campanula hawkinsiana continues to bloom: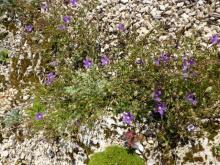 I thought I'd try Campanula cervicaria... I guess it is clear why C. glomerata is more widely grown (sort of similar but much showier):