Campanula choruhensis is a low-growing rock plant from Turkey with large, beautifully shaped white flowers in midsummer.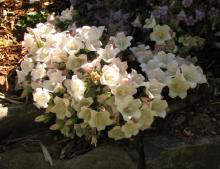 Here is the closely related C. betulifolia: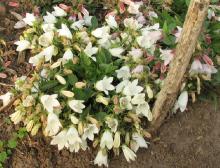 To me, the big difference is the recurved flower petals in choruhensis.
I got the seed from the NARGS exchange in 1/09, lot #617. Seed was sown on 1/16/09, and this photo was taken on 7/23/10.
Germination: I surface-sowed it, and enclosed the pot in a sealed plastic bag, and placed it six inches under fluorescent lights at about 60F. The seeds germinate irregularly after about two weeks. The seedlings must be protected from slugs, etc. As soon as I can see the seedlings, I start feeding them with soluble fertilizer. For more details about soil mix, etc., see this post: http://nargs.org/smf/index.php?topic=635.0
Google it for more info and photos. It is mentioned in Ward's "The Plant Hunter's Garden".
http://books.google.com/books?id=FQIIHEHu1EQC&pg=PA290&lpg=PA290&dq=campanula+choruhensis&source=bl&ots=1tMTYnl-H2&sig=d4p1j351Qq03dUMeZkERqfv4P0c&hl=en&ei=DqujTbfnJYOosAPWr5T5DA&sa=X&oi=book_result&ct=result&resnum=8&ved=0CFAQ6AEwBw#v=onepage&q=campanula%20choruhensis&f=false
It's described as a challenging plant, but I didn't find it difficult at all. Maybe it's picky about climate. I garden in SW Washington state, in a cool location. I grew it on a raised bed of sandy loam in nearly full sun. I got a few blooms the first year, and fully developed plants the second year. The plants are starting to grow again now (4/11/11). Survival is nearly 100%. They are also doing well in the unheated greenhouse.
I've noticed that some of the photos of this plant do not have the strongly recurved petals. I wouldn't be surprised if there is a continuous gradation of forms between choruhensis and betulifolia in the wild. Also, when the flowers first open, they are not recurved.