I just realized it's June (how'd that happen?) so I've split this off from the May thread.
Phlox hendersonii (x2); Draba rigida:
Aubrieta 'Blue Indigo'; alpine Potentilla seedlings:
A Saxifraga known only as 'FJK3'; Eritrichium pauciflorum ssp. sajanense and a self-sown colour variant:
Pulsatilla ambigua/turczaninovii (x2); Androsace chamaejasme:
My supposed Pulsatilla patens v. flavescens seedling (I wonder about the identity because it puts out leaves before flowering unlike our native P. patens) Acck, just realized today that t's actually Pulsatilla albana ssp. lutea.... which makes sense!; unusual flower form of P. vulgaris:
Erigeron montanensis, just purchased from Beaver Creek and planted: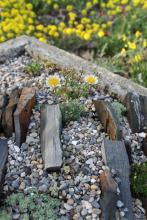 Edit: I reloaded the pictures that were lost when I split this off into a new thread.