Canada's Yukon and northern British Columbia are not the exotic locations reported by some NARGS members, but I thought I'd try to post some photos from our trip this June 15-July 12, at the height of the wildflower season there. Many of the plants we see grow also in the Rockies and many are circumpolar. There are a number that fall into the category of "why aren't we growing these!" and I hope to track down a seed source for a few. One of the advantages of the area is the ease of getting to the alpine: one can drive to the alpine on the Dempster and Haines highways at least, and with some reasonable hiking can get into the alpine in many other areas. What a delight to see patches of Silene acaulis on the road verge at Chilkat Pass!
Some of the photos were taken by my husband Jeff Thompson. Let's see if I can post them...
These three above were found near Whitehorse in an area called Bonneville Lakes - on a ridge: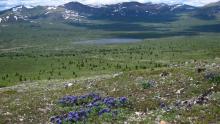 The Dempster Highway near North Fork Pass is easily accessible from Dawson City (of Goldrush fame), and one can stop anywhere and hike into the tussocks formed by cotton-grass and other sedges, interspersed with bogs underlain in many places by permafrost: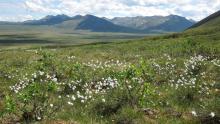 Wouldn't Lapland Rosebay (Rhododendron lapponicum) be a wonderful plant in the rock garden? It must be difficult to cultivate. We also saw it in drier situation in northern BC near the Alaska Hwy, definitely in limestone mountains rather than acid soil. Here is is with some Ledum decumbens among the boggy tussocks...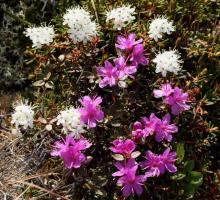 Along with Pedicularis ssp, there was Papaver macounii (note the skinny capsule) , Parryea nudicaulis, and Cardamine purpurea (10-15 cm high, would make a great rockery plant):
The highways near Kluane and Tatshenshini Parks are high elevation and wonderful for plants. Here is Chilkat Pass near Haines Alaska: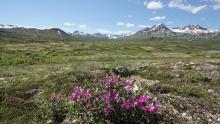 Around here in wet areas there is Geranium erianthum - an ethereal blue. Surely someone tries to grow this -- ironically we found some growing on the roadsides in the small town of Watson Lake, Yukon, but I don't think it was cultivated: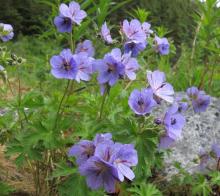 An amusing little plant on the gravel roadsides was Astragalus nutzotinensis with its C-shaped seed pods:
My new favourite Penstemon is P. Gormanii, which grew in profusion on dry hillsides, sandy roadsides, and cliffs from Whitehorse to Dawson City:
The last area we hiked in was near White Pass which is on the border of BC and Alaska. The plants start to trend towards the coastal with Lupinus nootkatensis replacing L. arcticus in the alpine, and lush foliage along the trail (along with much bear scat but fortunately only one moose).
And one final oddity, found at Muncho Lake in northern BC (though we have seen it before in central Yukon): Campanula aurita: