Of course, there is a plethora of idiotic mistakes, glitches, archaic modes, etc.that make this forum a user unfriendly place. But really:
forum member name: cleaner
first name:pest
last name: control
And as moderator, I can't even masquerade as this joker.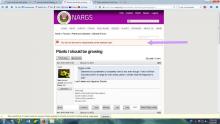 I'd as for help, but I know there is no one listening.....
Comments
---
Hi, Rick,
He/she has expressed an interest in bog plants... might be legit. I guess we'll see. We can nuke his/her membership and posts if it proves to be bogus... or at least I used to be able to do this (and had been doing it whenever a spammer started posting junk).
Lori
---
Oh I was not at all suggesting we ban...um..... that person or anything.
But I do not appreciate being mocked.
---
Well, everyone's different. Could be it really is what he/she does (though an odd choice for a username nonetheless... once we're on friendly terms, can we call him 'Pest' ? ) or it could be an odd sense of humour. I'm sure it's not meant as mockery of us though... it may be a self-directed jibe, who knows?