Yes, the title is very intriguing...
The area is named after the Uncas Skipper, a butterfly that occurs over a large range of North America, but known only from two locations in Minnesota, both being disjunct from its normal distribution range. The caterpillar feeds on Blue Brama grass (Bouteloua gracilis) and needle grasses (Stipa spp.).
This SNA (Scientific and Natural Area) is only about an hour's drive north of Minneapolis, and is part of the Anoka Sand plains (http://www.dnr.state.mn.us/ecs/222Mc/index.html), an area left by the last retreating glacial age. Uncas Dunes preserves a relic dunefield associated with glacial Lake Grantsburg (long extinct). Natural communities include oak savannah, oak forest, and wetlands. Not at all "pristine" as most of Minnesota's SNAs are, this SNA is overrun by many exotics, both purposefully planted (half century old pines) and not. Still, there are floral gems to be seen, and the area does support a few rare native plant species besides the Uncas Skipper.
In fact, it is very clear that area is far from its natural state. Conventional garden weeds abound here: something unheard of in natural settings. Things like Fox Tails, Common and Western ragweeds, Carpetweed and sandburs were literally everywhere.
A sea of weeds (mostly Western ragweed and Foxtail) with just a spattering of native prairie flora. And Carpetweed (Mollugo verticillata)
Also everywhere was Poison ivy (Toxicodendron radicans). At least in my childhood, I was not allergic to this plant. Still, I always try to avoid contact with it. Never could I step anywhere without first examining the intended stepping spot to confirm the absence of the poisonous plant. Often turning my foot at a weird angle to match the space void of posion ivy, I felt like a student of Kung Fu, slowly and deliberately planning each movement. The hard part was having to retrace my steps several times, backwards, as I often found I could no longer go forward!
While Poison ivy begins to grow as a vine in far southern Minnesota and can grow easily 50 ft farther south, in Minneapolis a 2 ft. plant is considered robust. Even in the poor nutrition of Uncas Dunes, Toxicodendron radicans does very nicely, and I have never seen better fruiting anywhere in Minnesota. The name escapes me, but we have a native bird species here that depends heavily on Poison ivy's berries for food.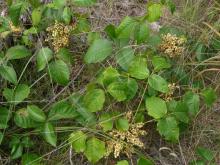 So views of good prairie/savannah habitat are lacking, but the overall feel of the area is pretty typical. The plant species mix is just "abnormal'.
Big Bluestem Andropogon gerardii - a true native
I was there at just the right time to see how a gust of wind gives rise to a temporary cloud of Big Bluestem pollen that would visibly drift downwind.
Leadplant (Amorpha canescens) had just finished blooming, but I did find a few stragglers...
(Western ragweed (Ambrosia psilostachya) is out of focus to the right in this second photo.)
A wild Coreopsis sp. just finishing up, too.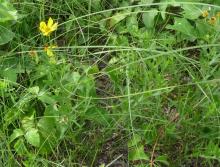 Edited to replace missing photos.