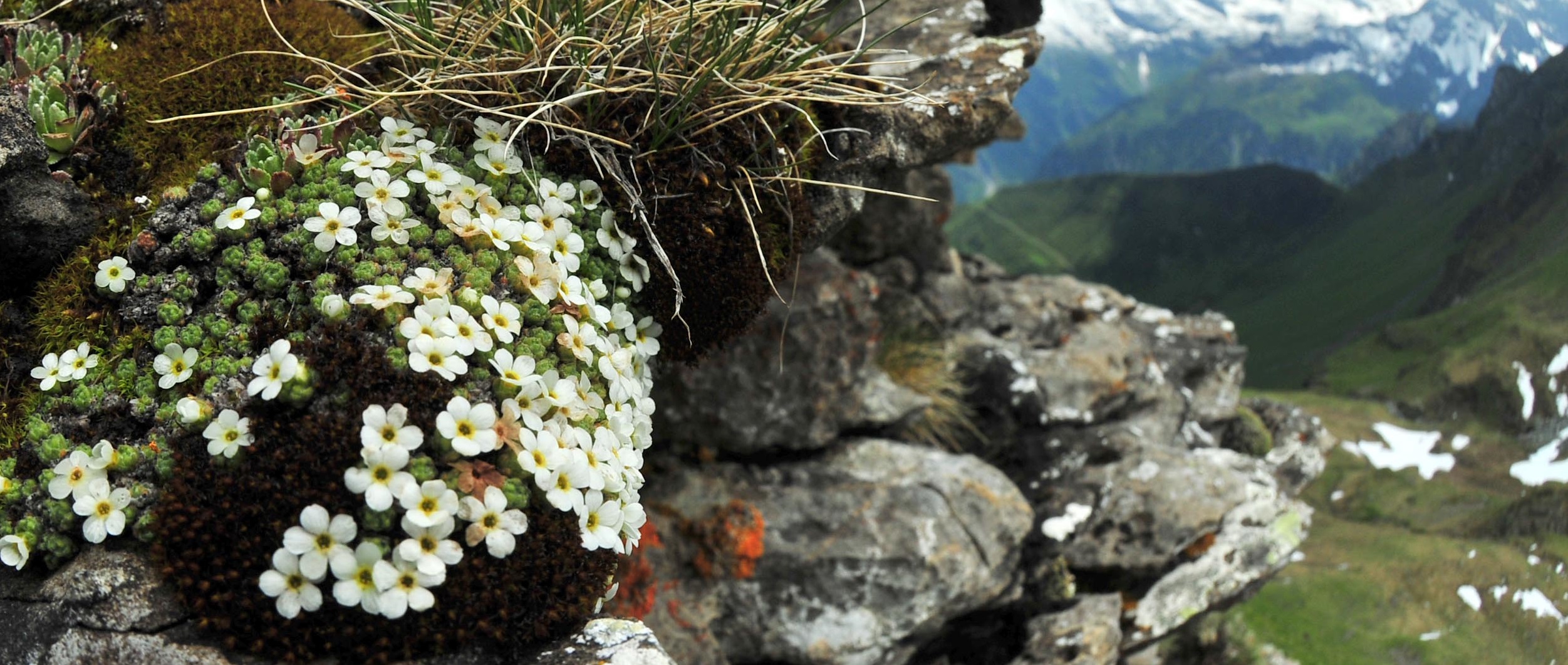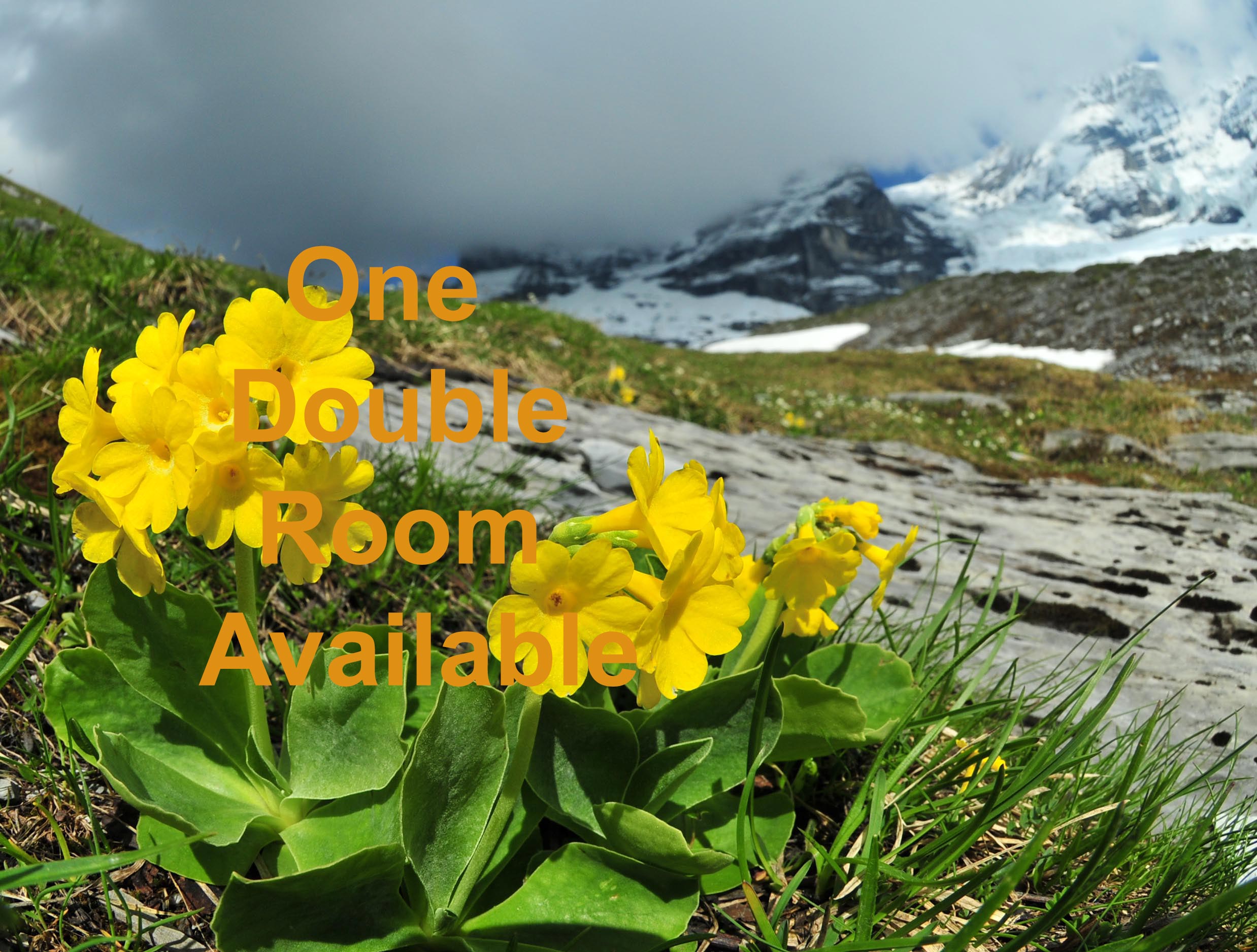 DEPART
Sunday, June 19, 2022
RETURN
Thursday, June 30, 2022
Flowers of the Swiss Alps
A double room is currently available. This room could be filled by a couple or shared by two individuals. Please use the Contact Us to check on space availability. The NARGS Tours and Adventures Committee is working with Brightwater Holidays to sponsor a 2022 tour of the Bernese Oberland region in central Switzerland. The tour will be centered around the village of Wengen. With breathtaking scenery, rich alpine meadows, and spruce forests, it is a superb destination. Depending on the season, there can be between 250 and 350 species in bloom. In Wengen, timber-framed buildings and Belle Epoque hotels transport the visitor back to another century, an experience enhanced by the town's car free policy. With 300 miles (500 km) of walking trails and 15 mountain railways, accessing the alpine meadows during the summer months is easy.
Join our guide, Julia Corden, on a 12-day adventure exploring the native flora on the mountains and valleys. Flowers we hope to find in bloom include Campanula cenisia, Campanula thyrsoides, Gentiana acaulis, Gentiana verna, Gentiana lutea, Globularias, Lilium martagon, Lloydia serotina, Paradisea liliastrum, Veratrum album, Primula farinosa, Androsace alpina, Aquilegias, Anemones, Pulsatillas and many more. Each day we will walk a different route of up to five miles, sometimes taking a mountain railway or cable car to the starting point. We will also visit the Alpine Botanic Garden, which has 600 species of local plants. Below is the planned daily itinerary. Depending on weather conditions, daily activities may change. The goal is to provide visual and botanical stimulation, but If you want to skip a day and relax in Wengen, simply let your guide know.
The tour will be limited to 25 participants. You must be a member of NARGS. The tour cost of $4,850 per person. There is not a single supplement, but room sharing may be required depending on the number of participants. This price includes the services of Julia and an assistant tour guide, 11 nights at the 3-star Hotel Bellevue in Wengen, breakfast and dinner each day at the hotel (lunch will be at your own expense and we will make suitable arrangements for you to purchase these on the day), round-trip travel by rail between Zürich Airport and Wengen, and a 10-day Berner Oberland Pass that entitles the user to ten free days' rail and bus travel which will cover the routes we have planned in our itinerary. On your free day should you wish to explore independently this pass also entitles the holder to a 50% reduction off the price of other mountain trains and cable cars which are not covered under the pass.
Itinerary
Day 1 – Sunday, 19 June 2022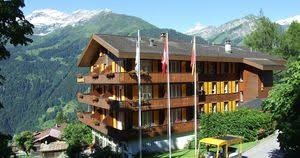 Please arrange your flights into Zurich to arrive by 9:00 am so that you will be able to depart the airport by train by 10:00 am. Once we have met up, we will board the train to Lauterbrunnen where we change trains and continue to Wengen, a car-free village. On arrival in Wengen, we will be met by a representative from the Hotel Bellevue and then walk the short distance to the hotel. Our luggage will be transported separately from the Wengen train station to the hotel. The Hotel Bellevue is a traditional chalet-style hotel with breathtaking views of both the Bernese Alps and the Lauterbrunnen Valley. All rooms have private bathrooms and south-facing balconies. Following dinner, the evening is free to explore your surroundings.
Day 2 – Monday, 20 June 2022
On our first full day we will take the train from Wengen to Kleine Scheidegg, gateway to the Eiger, Mönch and Jungfrau mountain peaks, where local farmers converge with their cattle and where some of Switzerland's most attractive walks begin. We will walk back to Wengernalp, which offers spectacular views of the surrounding peaks as we look for flowers on the way. From there we return by train to Wengen.
Day 3 – Tuesday, 21 June 2022
Today we take the cable car from Wengen to Männlichen and walk to Kleine Scheidegg, approaching the peak from the opposite direction to yesterday's walk, to look for flowers on the way. From there we return by train to Wengen.
Day 4 – Wednesday, 22 June 2022
We will travel by train, bus, and cable car to Mürren and then on to Schilthorn. We will then botanize our way back to Mürren before returning by cable car and train to Wengen.
Day 5 – Thursday, 23 June 2022
Today will be long but rewarding as we take the train to Wengernalp and have a moderate walk from there down to Slipper Valley to look for some of the most spectacular plants of the area, including the Lady Sipper Orchid (Cypripedium calceolus).
Day 6 – Friday, 24 June 2022
Today you are free to relax or to join an optional excursion (at your own expense) to visit Jungfrau the highest mountain range in south-central Switzerland where you can enjoy beautiful views, see the Aletsch Glacier, and enjoy high level walks. We will have a farewell dinner at the hotel.
Day 7 – Saturday, 25 June 2022
This morning we travel by cable car to the glacier village of Grindelwald. The village provides a fine view of the massif that features the Wetterhorn, Eiger, Mönch and Jungfrau mountains, and is the start of many classic walks. The Upper Grindelwald Glacier terminates a short distance from the village. From Grindelwald we will travel by cable car to First for a gentle walk and look at the flowers in this most scenic part of the Bernese Oberland.
Day 8 – Sunday, 26 June 2022
Today we will travel on the rack railway to Schynige Platte. The Schynige Platte Railway climbs from Wilderswil for 50 minutes to an alpine plateau. This is the finest picture postcard panorama of the surrounding area overlooking both lakes and mountains. We will also be able to visit the delightful Alpine Botanic Garden (www.alpengarten.ch/en/) with its spectacular flora. Many of the 500 different plant species in the garden have been saved from extinction and now the garden contains 80% of the Swiss mountain flora growing above treeline.
Day 9 – Monday, 27 June 2022
This morning we will catch the train to Interlaken to catch a ferry across Lake Thun or Lake Brienz to look at the flora in the woodlands and meadows.
Day 10 – Tuesday, 28 June 2022

We venture down into the Lauterbrunnen valley and explore the valley with a walk to Staubbach Falls and Trummelbach Falls (entrance not included) and then continue
down the valley through the meadows and woodland plants before finishing at one of the cafes. We will then take the bus back to Lauterbrunnen.
Day 11 – Wednesday, 29 June 2022
We will catch the train to Lauterbrunnen, the cable car to Grutschalp, and the train to Murren where we walk through the village and catch the train up to the Blumental Valley. The "Valley of Flowers" is a beautiful mixed meadows that includes the very rare Campanula thyrsoides.
Day 12 – Thursday, 30 June 2022
Today is the final day of the tour. After checking out of the hotel, your luggage will be transported separately to the station in Wengen. We will then travel by train to Lauterbrunnen and on to Zürich for your flight home or for additional travel.
General Information Related to the Tour
Hikes: Most of the trails can be easily traversed, but cover some of Europe's most breathtaking scenery. The goal is to botanize and is not a test of endurance or climbing skills. Tour participants should be in reasonable shape and able to traverse uneven terrain. Daily hikes will generally be
between 2 and 5 miles (3-8 km) in length. We will generally be at elevations of 2,000 - 7,000 feet (600 – 2,000 meters) above sea level.
Weather: Ambient temperatures in Wengen in June are generally between 45 and 70 oF (7 to 21 oC) but will vary depending on daily weather conditions and altitude. The sky can be sunny or overcast
and rain is possible.
Gear: Be prepared for variable conditions. Bring clothes that can be layered and have good rain and wind resistance. Bring a day pack, hiking shoes, a sunhat, and sunscreen.
Group Size and Price: The tour is designed to accommodate up to 20 people. Pricing is based on a minimum of 15 people. If these minimums are not met, NARGS may need to cancel the tour or increase the price. If there is sufficient interest, a second tour in 2023 is possible.
What is included in the price
 Services of Julia Corden as Brightwater Holidays Tour Manager plus an Assistant Tour Manager. In addition to being an experienced tour guide, Julia is the current President of the Scottish Rock Garden Club, developed the Explorers Garden in Pitlochry, Scotland; and is well known by many NARGS members.
 Eleven days of lodging, breakfast, and dinner at the 3-star Hotel Bellevue in Wengen (www.bellevue-wengen.ch/en/home.html). All rooms have private bath rooms.
 Round trip tickets between Zürich and Wengen and a 10-day Berner Oberland Rail Pass, covering all local rail and bus travel, plus a 50% reduction on mountain railways and cable cars.
 Visits/walks to Schynige Platte, Kleine Scheidegg, Wengernalp, Mürren, Schilthorn, Slipper Valley, the lakes, Blumental Valley, Grindelwald, and First.

What is not included in the price
 International flights
 Travel and medical insurance
 Lunch (typically, a bag lunch from a local deli selected by each participant each morning)
 Alcoholic beverages
 Optional excursion to Jungfrau
 Tips for guides and drivers
 Extra night before or after can be arranged near Zürich Airport – please contact Brightwater for a price
Waiver: Everyone's safety during the tour is important. We will be using licensed hotels, restaurants, and drivers throughout the trip. However, there is always a risk of an accident. All participants will be required to sign a "Participant Waiver and Release of Liability" form. The form covers both release from liability if an accident occurs and permission to use photos taken during the tour.