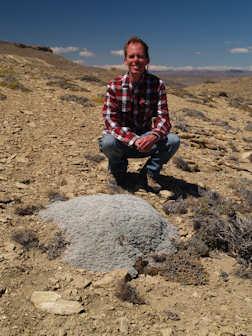 Mike Kintgen is a Senior Horticulturist at the Denver Botanic Gardens where he oversees the Alpine Collection and nine gardens including the Rock Alpine Garden, and South African Plaza. Mike has worked full time at DBG since late 2004, but has volunteered and helped out since the mid 1990's. In 2012 he finished a two year project to get DBG's collection of alpines recognized in the North American Plant Collection Consortium through the American Public Gardens Association. He interned at both at Chicago Botanic Gardens and at the Rhododendron Species Foundation under Steve Hootman. He has been a member of NARGS since 1993 (age 12) and is currently president of the Rocky Mountain Chapter of NARGS. Travel opportunities since a young age have allowed him to observe alpines in Alaska, Hawaii, Argentina, Morocco, Spain, the Alps, and throughout the American West.
Mike began gardening at a young age with a specific interest in alpine and rock garden plants. Anything with chlorophyll attracts his attention but especially cushions and buns, along with the genera Eriogonum, Penstemon, Phlox, Saxifraga, Dianthus, Gentiana and Androsace. He currently gardens in both Denver and Steamboat Springs, Colorado. The two different climates allow him to experiment with a wide range of plant material.
Mike is a popular speaker in areas around Colorado on the topic of rock gardening, and botanic travel. He has lectured as far away as Sweden and Argentina on Denver Botanic Gardens and its current focus on steppe and high elevation floras found in semi-arid regions around the world.
Schedule: October 2014
October 11: Allegheny Chapter
October 12: Ohio Valley Chapter
October 15: Wisconsin Illinois Chapter
October 18: Adirondack Chapter
October 19: Ontario Chapter
October 21: Nova Scotia Chapter
October 25: Potomac Chapter
October 26: Tri-State Meeting
October 29: Fells Chapter
November 1: Berkshire Chapter
Topics:
Alpines of Colorado and Wyoming
Plants of the Western United States
Searching for plants in some of the most beautiful places on 4 continents
Patagonian alpine and cushion plants
Great rock gardens of Europe
A celebration of the rise of Rock Gardening and naturalism