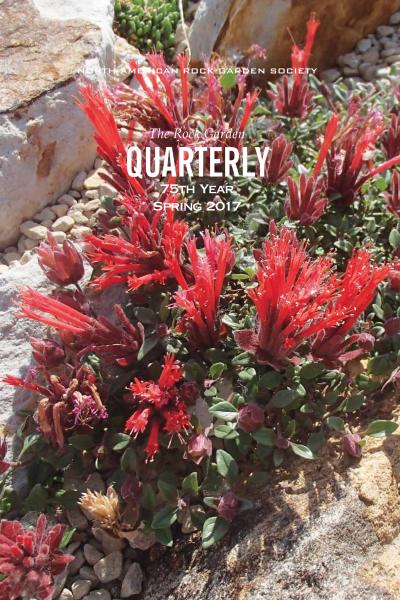 Crevice gardening has become one of the key styles for the rock garden builder in rcent years. But wheIn this article Kenton sets out to discuss the wre did the idea start? And just what is it? In this article the author sets out to answer these questions and look at just why the crevice garden is so effective for growing mountain plants.
It is very easy for the rock gardener to become focussed on just how to grow some particular plant and at the same time overlook the ecological impact of what they do or fail to do. Douglas Tallamy, Professor at the Univeristy of Delaware and author of best-selling 'Bringing Nature Home' looks at the impact of contemprary approaches to the natural environment and at the challenges that every rock gardener should be considering.
Troughs are one of the staples for many rock gardeners and they are given full rein in this wide-ranging view of what makes a trough and how a trough can add to any garden. Too many of us are limited in what we use in the rock garden but we should free ourselves from our preconceptions - wiht tips on planting media and landscaping your trough.
A timely reminder that it will soon be the time to start this year's seed collecting. Tips on getting started (or getting back to) this invaluable activity. And you could always send some of your seed to the NARGS Seedex and then your order will be prioritized and you will get an extra allowance of seeds.
Cushion plants are found in a variety of habitats across the world and they are among the most beautiful of all the plants that the rock gardener can aspire to. High mounatin passes, cliffs, screes, and steppe country all provide habitats in which cushion plants make a home.Some are straightforward to gro, other extremely challenging. In this third installment of Ger's survey there are are plenty of examples of both of these.
In the last few years there have been an increasing number of new Reticulata Iris hybrids emerging into the trade from the Toronto garden of expert hybridizer Alan McMurtrie. In this article Alan reflects on a number of his wonderful hybrids and their genesis and ghoes on to consider the problems associated with trying to make these available.
Verna was a stalwart of rock gardening and field botany in Alaska for many years. Brenda Adams remembers Verna and her warm and generous approach to all who came into contact with her.