St. Cloud is a city in central Minnesota, about 80 miles north of Minneapolis. Quarry Park is actually a city park, a re-naturalized area set aside for hiking and picnicking. Quarry Park SNA (Scientific and Natural Area) is adjacent to it and remains a wild area. Both the Park and SNA sit atop granite bedrock, and in the city park it was mined in the mid part of the last century (hence its name). While the Park contains much deeper soils, in the SNA the bedrock is never more than a couple feet under the surface of rich loam. Consequently, outcrops of granite emerge now and then, and provide niches for plants not normally found in the area.
With the normal water table relatively high, both wet and dry ecosystems naturally occur. The bulk of the Park and SNA is forested with a mix of native hardwoods, but mostly Red oak (Quercus rubra), Northern Pin oak (Q. ellipsoidalis) and Bur oak (Q. macrocarpa). It was interesting to note that a couple strong windstorms blew through the area in the last month, and in late August I saw at least a dozen large - 2+ ft in diameter - Red and Northern Pin oaks blown over, but not one Bur oak was uprooted.
When you don't have your own map to go by, its a good idea to take a digital photo of the one at the entrance, just in case.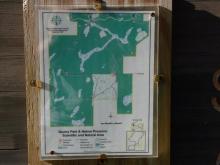 Though Corydalis sempervirens occurs farther south as one travels east of Minnesota, this is about the southern reach of the species in the state. This corydalis is a biennial.
Small-flowered fameflower (Phemeranthus parviflora) tends to like very thin soils on bedrock in places where water pools temporarily.
Harebells (Campanula rotundifolia) is common throughout Minnesota, as is our "good" friend Poison ivy (Toxicodendron radicans).
Woodbine (Parthenocissus vitacea) grows a little differently then the closely related Virgina Creeper (P. quinquefolia) that abounds to the south. The berries show the slightest hint of the blue that is to come.
Bluets (Houstonia longifolia) retreat to a small little tuft of leaves in the late summer, while comparatively long flower stalks seem disjunct to the plant. Most were done flowering, but a few blossoms linger.
Edited to replace missing photos