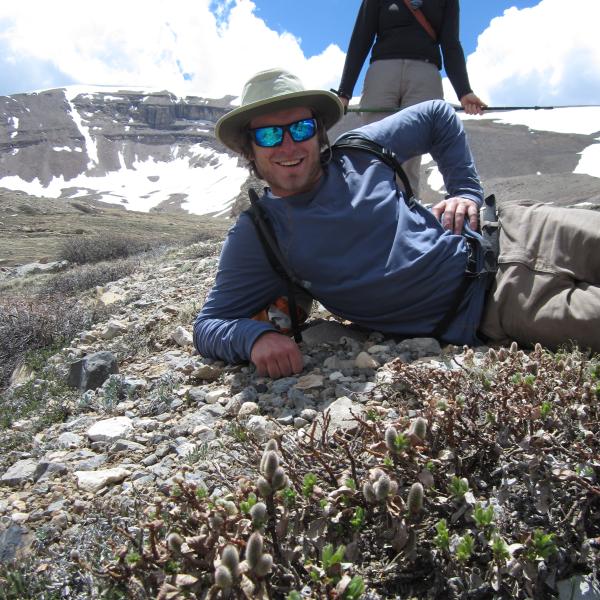 Tribute to Nick Courtens
By Mike Kintgen
Nick Courtens was a force of life with an infectious good humor, and kindness that made it easy to be around him. Over the past few days, I have had messages, emails, and zoom calls from the horticultural community here and aboard asking what happened and how everyone who knew him was so touched by Nick. It is trite to say but you never really know someone's impact till they are gone. (He died in a rafting accident in Glenwood Canyon, Colorado, on May 21, 2023.)
Nick came to Colorado in 2010 as an intern for Betty Ford Alpine Gardens, he had recently finished the professional gardener program at Longwood Gardens. A native of the Hudson Valley in New York, he grew up on an organic vegetable farm. He was hired after his internship ended and strove to improve the gardens and collections at Betty Ford eventually becoming Senior curator.
His love of mountains, skiing and adventure brought him to Colorado. He loved the peaks, canyons, rivers, and trails of the west, and most weekends could be found hiking, camping, skiing, fishing, rafting or mountain biking. It was rafting that took his life. He coached skiing for the Ski and Snowboard Club Vail team in the winter and was an excellent skier. Always active Nick seriously hurt his back one winter skiing and it slowed him down for a bit but being the fighter, he was he made a strong recovery and was able to continue a very active lifestyle.
As time went on, he had more responsibilities at Betty Ford Alpine Gardens that kept him occupied through the winter months and he stopped coaching. Over his 13 years working at Betty Ford, Nick oversaw massive improvements, renovations and additions to the gardens. The number of gardens and renovations he did are innumerable but include a Central Asian inspired Silk Road Garden, a new Caucasian crevice garden, renovating the existing crevice garden, a new entrance garden, a stumpery, a pollinator inspired garden leading down the new path to the new visitor center. The Alpine house and trough collection around the visitor center are also on the list. I think his crowning achievement was the Alpine House which transformed Betty Ford from a Spring through Fall destination to a year around respite from Vail's long cold winters. Here Dionysia, Saxifraga, bulbs and other early alpines bloom months ahead of their counterparts outside. The Alpine House is probably the largest collection of public displayed Dionysia in North America. Just last week he was working on a new massive xeric garden that will be planted this spring.
Bulbs seemed to be Nicks truest love and I know he was crazy about tulips, making one trip to Central Asia to see them and other bulbs in bloom several years ago. His father was born in the Netherlands, and he often joked that bulbs were in his blood.
In addition to curating the gardens, Nick was involved in field work collecting seeds of both common and rare Colorado plants in the wild. We accompanied each other on many seed collection trips over the years and I always enjoyed Nick's eagerness and humor in the field. Nick was instrumental in many of the initial alpine seed collections done in 2020 to 2022 for the North American Botanic Garden strategy for Alpine Conservation.
Always seemingly surrounded by friends from both the horticultural and Vail's outdoor community, Nick was a kind soul in a world that needs more kind people. He will be greatly missed, and the alpine will probably never feel the same without him and his beloved dog Asa Gray tagging along.
Relegate to the Archive
0