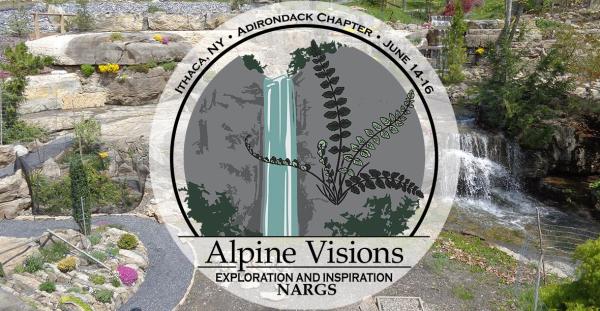 NARGS Alpine Visions: Annual General Meeting, Ithaca, NY, Registration Now Open
LAST DATE TO REGISTER IS MAY 25.
REGISTRATION for the NARGS Ithaca, New York, annual general meeting (AGM) hosted by the Adirondack Chapter, is now open. The meeting is being held Tuesday, June 14 until Friday, June 17, 2022.
You must be a current member of NARGS to attend the AGM. Before you register, verify that your membership is current by going to Log in on the NARGS home page HERE. If you learn your membership has lapsed, click on the "Renew Membership" tab to renew or, for first-time members, click on the "Join" tab.
The meeting includes a separate, add on, pre-conference day trip to Syracuse area gardens (cost $55) on Tuesday, June 14. And in addition, there is a separate NARGS Tours and Adventures pre-conference tour Sunday, June 12 through Tuesday, June 14 titled "Botanizing in the Adirondacks" (cost $495).
Note that you will NOT be able to attend both the Syracuse day trip and the pre-conference "Botanizing in the Adirondacks" tour as they overlap—both ending on the afternoon of Tuesday, June 14. NARGS members who accept MailChimp from NARGS will receive an email on how to sign up for the Adirondacks pre-conference tour. (If you don't see an email from NARGS via MailChimp, check your email spam folder.)
Full details of the annual general meeting, the Syracuse day trip, and the pre-conference tour are included in the winter issue of the Rock Garden Quarterly HERE. You will need to log in to access the site and download the PDF.
Because Cornell Conference Services is handling the registration, if you have special problems you may telephone 607-255-6290 between the hours of 8:00 a.m.- 4:30 p.m. (Eastern Time) Monday through Friday.
Botanizing in the Adirondacks Pre-Tour
If you have any questions/comments regarding the Adirondack Pretour availability, send a message to the Tour Manager using the CONTACT in the upper right menu. Select Tours for "Category", enter your question, and click Send.
Relegate to the Archive
Archive