Verna Pratt
1930 – 2017
NARGS member Verna Pratt died January 8, 2017, age 86. She was considered one of the most knowledgeable people on Alaska native plants, a pioneer in introducing locals and tourists to Alaska wildflowers through easy-to-read books that she and her late husband, Frank, photographed and wrote. One book, "Field Guide to Alaska Wildflowers" has sold 100,000 copies and is now in its 16th printing.
Verna grew up in Massachusetts and moved with Frank, a military man, to Alaska in 1966. She considered herself "a self-educated amateur botanist," but her depth of knowledge of Alaska wildflowers and her ability to teach and inspire enthusiasm for native plants belied that. In 1982 she was a co-founder of the Alaska Native Plant Society and in 1997, co-founder of the Alaska Chapter of NARGS, serving initially as chair of both organizations. In 2000, Verna was honored with the NARGS Carleton R. Worth Award for distinguished writings about rock gardening and rock garden plants. She was elected to the Board of Directors of NARGS in 2015 and at her death she was vice-chair of the Alaska Chapter.
Verna was a speaker at a NARGS Study Weekend in 1991, a Speakers Tour participant in 1999, and a speaker at the International Rock Garden Plant Conference in Edinburgh, Scotland, in 2001. She helped organize the NARGS Annual Meeting in Anchorage in 2002 and she and Frank led a NARGS post-conference expedition. Verna was one of the members of the Alaska Chapter of NARGS (now the Alaska Rock Garden Society) that helped install the rock garden at the Alaska Botanical Garden in Anchorage.
For the NARGS Rock Garden Quarterly Verna wrote an article with Jane McGary titled "Some Plants of the Bering Sea Coast" (2002) and "Plant Treasures of Denali National Park" (2002). Other popular books by Verna and Frank include "Wildflowers Along the Alaska Highway" (1991) and "Wildflowers of Denali National Park" (1993). She is also the author of "Linnaea's World" (1996), an illustrated children's book about wildflowers during the changing of the seasons. She was inducted into the Alaska Women's Hall of Fame in 2014 and received the Lifetime Achievement Award from the Alaska Master Gardeners in 2009. Verna's most recent published writing is an essay in "Alaska Range: Exploring the Last Great Wild" (2016), a collection of images and essays of the Alaska wilderness, its wildlife and flora by photographer Carl Battreall. Verna's essay is titled "Reflections on Flora" in which she ties the interdependence of Alaska's mountain ranges and flora to the rest of the world's plants.
Verna Pratt was affectionately referred to as "Mountain Goat" for her ability to trek over rough Alaska terrain in the scores of hiking tours she led over the years. According to NARGS board member, Panayoti Kelaidis, "She is a national treasure."
Two sons, Frank III and DeWayne, survive Verna. Her husband Frank and daughter Lynn predeceased her.
A celebration of Verna's life was held on Sunday, January 15, 2017, 2:00 to 6:00 p.m. at the Lucy Cuddy Center of the University of Alaska - Anchorage.
Donations may be made in her memory to: Alaska Botanical Garden, 4601 Campbell Airstrip Road, Anchorage AK 99507.
---by Bobby J. Ward
Photo of Verna Pratt by Panayoti Kelaidis, Healy, Alaska, August 1999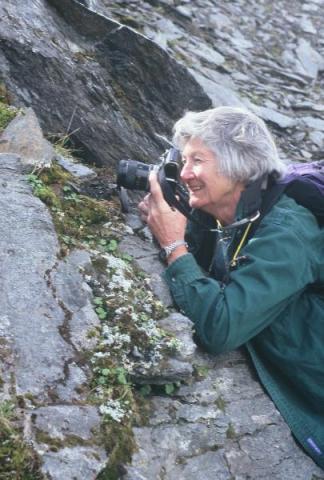 Relegate to the Archive
0