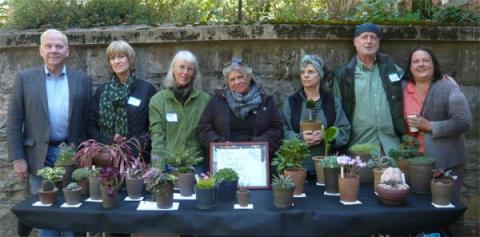 MCNARGS members display Larry Thomas pots they have planted
[Photo: Brendan Kenney]
Some of Larry Thomas' friends agreed shortly after his memorial service that we wanted to display his pots at a NARGS gathering this year. The best occasion for such a display was the recent Tri-State Meeting.
Organized by Lola Horwitz, also a major contributor, MCNARGS members contributed their planted Larry Thomas pots to this display.
In collecting his pots we have been impressed at the variations of size, texture, color and shape that Larry tried out during his years as a ceramicist and plantsman. His large collection of blue ribbons attests to his ability to balance his pots with superbly-grown plants. This exhibit gave witness to his talents and our members' wise selection of plants.
The plaque commemorates Larry's NARGS Linc & Timmy Foster Millstream Garden Award in 2009.