A pleasant forest walk before the rough stuff begins...
Rhododendron albiflorus and false huckleberry, Menziesia ferruginea in the shady woods:
A steep upwards climb on rough "trail", through a boulder-filled drainage and past a scenic waterfall: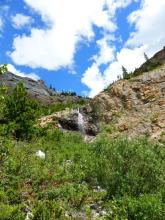 Approaching the headwall, Hector Lake in the distance: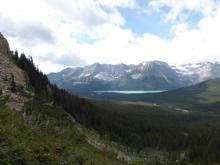 And, after a rather airy scramble up the headwall (with the thought that going up is easier than coming down causing a little trepidation!!), and crossing the waterfall stream, and up a talus slope... a bit of flattish ground for a lunch stop!
.... the headwall scramble was down there someplace!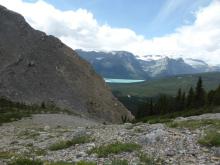 Dramatic slopes of Mt. Andromache: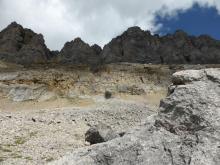 Up and up a steep slope through more talus (our chosen route to get past, actually around, the second headwall)... and tucked in here and there, some plant life: Hooker's Thistle, Cirsium hookerianum; grass-of-parnassus, Parnassia fimbriata, and Arnica sp.;
Continuing up the steep slope.... Penstemon ellipticus, in varying flower shades:
Ferns.... Polystichium lonchitis on top: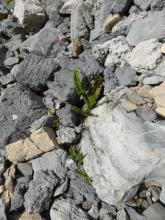 A beautiful specimen of Zigadenus elegans: