Planted out in 2010, then more or less forgotten about until a beautiful branched spire of bloom appeared recently, is Melanthium latifolium (EDIT update: this is Melanthium virginicum, I would use "strike-through" text formating except is doesn't exist on this forum) , a little known member of Liliaceae from Eastern USA. Melanthium species have tunicate bulbs with short, vertical rhizomes.

The USDA still lists it as Veratrum hybridum. Below is a link to a discussion on the close relationship between Veratrum and Melanthium in Flora of North America, explaining why they maintain Melanthium as distinct from Veratrum, with 4 species ascribed to the genus. Stated in FNA: "traditionally, Melanthium latifolium has been known by the misapplied name M. hybridum Walter (N. L. Bodkin 1979).
http://www.efloras.org/florataxon.aspx?flora_id=1&taxon_id=120114

Melanthium latifolium is found in a limited north-south range in eastern USA:
http://www.efloras.org/object_page.aspx?object_id=7409&flora_id=1

Mine is planted in full sun, which it seems to be enjoying; habitat description is "dry, rocky, wooded slopes", so might be a good candidate for more shade.

It's been flowering for weeks, a beautiful plume of individually large and uniquely shaped blooms. The blooms have a peculiar scent, best described as a light combination of cow dung and sweet perfume, sounds worse than it is, I find it intriguing and keep checking it out. As the flowers go over, they age to a chartreuse color, making the bloom spike prettier than ever.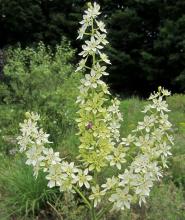 A couple close up view, then a photo of the foliage which I show reluctantly, as the plants is swamped with clover and other weeds.