After a very heavy snow in the high country on September 3rd (40cm reported where the highway crosses Highwood Pass at 2207m), there was still snow cover there and at high elevations throughout the area on September 5th. Here's the view from the parking lot at Highwood Pass (Highwood Ridge in the third photo):
We were dissuaded by the snow cover from our hoped-for ridge walk and instead walked up King Creek canyon... not alpine (at least to the point where we stopped, though one can continue, of course) but it made for a different sort of a walk and some impressive canyon scenery.
The walk involved much boulder-hopping and clambering over log piles (probably debris from the 2013 flood), as we wended our way from one side of the often narrow canyon to the other, necessitating many creek crossings over slippery logs.
There was not a lot of plant growth in the canyon, due probably to the force of flood waters in 2013, tearing out the creek banks, and also seemingly due to the shady conditions caused by the high walls. Some alpine-ish species (Rhodiola integrifolia, Saxifraga aizoides, Campanula rotundifolia) that were growing in the cliff walls seemed quite etoliated.
More views:
A dipper - it's amazing to consider that these tough little birds are nonmigratory: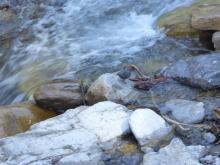 And back at the mouth of the canyon, looking back at Mount Brock in the distance: