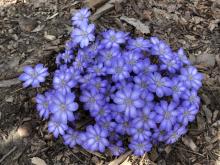 Yesterday it was +27C and lots of newly emerging plants suffered. Today the weather is more spring like with milder temperature and rain.
I took these pictures yesterday.
1. Hepatica transsilvanica
2. Hepatica nobilis
Comments
---
Krish - I really like your H. transsilvanica. Must get myself one.
---
Not many nurseries sell Hepaticas in North America. Frazers thimble farms and Free spirit nursery in BC sells them. You can get by mail order.