A splendid hike on July 2nd - it's still early up there but our timing was great for the start of the alpine potentilla bloom!
View from about 1/3 of the way up, where we stopped for a breather: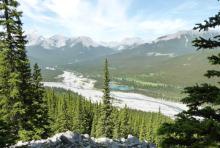 At our second rest spot... Saxifraga bronchialis:
Though it was not otherwise a very notable plant, this Dryas octopetala had double flowers:
Another view and then we're up on the first plateau... excellent timing too for the Silene acaulis:
First of the Potentilla uniflora(?)!