Here's my first bloom on Epigaea repens, started from seed 2/15/10: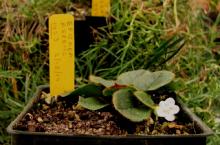 I germinated them the same as Azalea or Rhododendron. Surface sow on an acidic mix, place the pot in a freezer bag, seal the bag, and place under fluorescents at around 60F. A couple of months later, I transplanted into 3.5" pots, and grew them on in the greenhouse with part sun in the morning and shade in the afternoon. They weren't hard to grow.
Seed from NARGS, 1/10, #1222.