A few recent crocus in flower:
Crocus imperati (?ssp imperati)
Crocus rujanensis
Crocus olivieri ssp olivieri (in bud)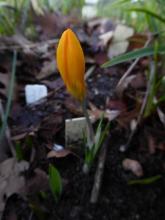 cheers
fermi
Comments
---
Crazy to think about blooming crocus here -- I just dug a "zillion" tommy corms from a small bed that was being overrun. Now to find a home for them.
Your C. olivieri are gorgeous.
...Claire