A Tapestry Garden: The Art of Weaving Plants and Place.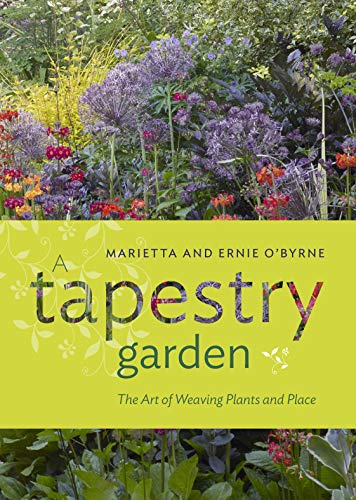 A Tapestry Garden: The Art of Weaving Plants and Place by Marietta and Ernie O'Byrne. Portland, OR, Timber Press, 2018. 264 pp. $34.95 $218.39 Amazon $15.31 Kindle.
While this book has been out a while (2018), A Tapestry Garden was new to me and I'm so glad I discovered it. Written by NARGS members Marietta and Ernie O'Bryne, the book takes you on a journey through the intricacies of their garden (the map on the inside cover by Mia Nolting numbers no less than 43 garden beds and garden features) encompassing 1.5 acres of their (now) 50-acre property. It is also a story into their evolution as gardeners with an expanding base of knowledge, focus, and philosophy.
Marietta naively purchased the property where they live in the early 1980's. I use the word naively because at the time she gave no thought to the condition of the old farmhouse (definitely a fixer-upper) or to the growing conditions of the land. Self-sufficiency was the aim. So the first gardens were, as one might expect, developed for cultivating vegetables and fruit and nut trees.
Shortly thereafter, Ernie joined her and their gardening and occupational interests gravitated toward ornamentals. After more than 20 years owning a landscape maintenance business and working to tend other people's gardens, they came to the realization that they were spending ever more time and interest in their home garden and decided that it was time to open a nursery. Some NARGS members may remember their retail operation, Northwest Garden Nursery.
Eventually the retail operation gave way to a wholesale operation. Their greenhouses were overflowing with the hellebores that they had developed a particular fondness for and is and is now their sole specialty. The hellebore chapter prompted me to check out their website (https://northwestgardennursery.com/), a wonderful resource in itself, where I promptly sought to purchase some of the cultivars they've introduced to the trade.
Now that they do not have retail customers visiting their gardens on a regular basis – or for those, like me, who live faraway – this book is an opportunity to visit the fruition of their labors and to experience vicariously their love of plants and their exuberant style of gardening. They describe their garden as "a densely planted collector's garden with a design framework" and their preference for "harmonious disorder of mingling, sprawling growth. What looks like spontaneous creation…is an illusion that is a large part of the art of gardening….The invisible hand of the gardener…creates magic."
Chapter by chapter the various beds are described in great detail from woodland to rockery, traditional perennial borders to chaparral and more. The book is loaded with beautiful photos (credit to Doreen Wynja for a number of them) that leave me yearning for more. I long to see even more photos of the choice cultivars that are described in the text. Living near Eugene Oregon, their climate zone 8b is a gardener's envy for the long growing season and range of plants that are available to them. I was astounded – overwhelmed even - at the garden they have created.
As to their philosophy, this passage from the book gets to the heart of it. Marietta writes, "I have asked myself many times what it is that drives the two of us to this endless quest for beauty. We toil and sweat, pushing innumerable wheelbarrows, digging holes….Others can only see the 'hardwork.' But for us it is a passion, the quest for beauty, and I hope it never leaves us (emphasis mine)." I think this statement speaks to many gardeners. They make no apologies for the high maintenance that this garden requires. Dense plantings must be kept in balance by aggressive pruning and fearlessly controlling thugs or culling what doesn't perform well – a price they are willing to pay.
The book is not just pretty pictures. You will find the text is peppered which loads of garden wisdom and their particular approach to gardening. This book is a keeper for sure – one to return to for reference or simply to enjoy the gorgeous gardens that serve as aspiration and inspiration.
Carol Eichler is a member of the Adirondack chapter and a primary organizer of the upcoming 2022 Annual Meeting in Ithaca, where she maintains a large rock and woodland garden