Seeds on Ice: Svalbard and the Global Seed Vault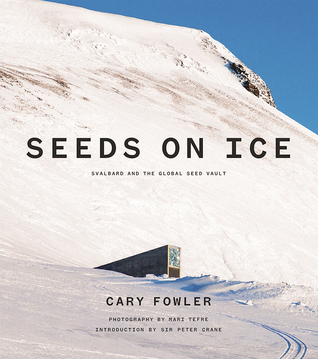 SEEDS ON ICE: Svalbard and the Global Seed Vault by Cary Fowler
Prospecta Press: Westport, CT and New York, 2018. 161 pages
$45.00 list price, $30.95 Amazon
For NARGS, a plant organization that is world-renowned for their seed exchange program where donations are grown, collected and packed by its members, Cary Fowler's book is the ultimate fit. And not just because Svalbard's purple saxifrage (Saxifraga oppositifolia) grows farther north than any other flower in the world.
SEEDS ON ICE: Svalbard and the Global Seed Vault is a personal and passionately written saga. Cary Fowler's heartfelt love for Svalbard and its people are further corroborated by Mari Tefre's photographic visions of stark beauty and unfamiliar eeriness, as well as glimpses of indigenous life where the Polar Bear, King of the Arctic, is revered and you must plan accordingly. This immensely gratifying odyssey is never a stodgy academic tome. How could it be when you are told that the Spitsbergen hotel, the oldest in Svalbard and Cary's favorite, is where breakfast is a feast facing a glacier but also where his initial plans for the Vault first took root.
Right from the banner-wrapped cover teeming with seeds, as if they were spilling out of a giant seed packet, Cary Fowler's book is eye opening. Imagine,"the largest and most diverse seed collection ever assembled: "more than a half billion (agricultural) seeds," arrive from participating countries around the world. They come ingeniously packed but ultimately are foil wrapped (with about 500 seeds per variety), then contained in sealed boxes, behind multiple locker doors and protected by electronic security systems. But most significantly, the future of agriculture is safely at repose 130 meters deep inside Plateau Mountain. Cartons are stocked on shelves where low humidity and natural frigid temperature are a given and will keep the inventory viable. The Vault is an elegant manmade structure with a brutal beauty that is honest and functional but belies how chockfull it really is.
Without any need to invest in an extra thermal wardrobe where the average winter temperature is -18º Celsius (or between 0º and -1º Fahrenheit), the reader will travel with Cary Fowler, to the top of the world – metaphorically and physically – as this former self-described Tennessee farm boy attempts to convince the highest powers-that-be of his mission.
He describes the enormous debt that he owes to all of the seed collectors, all of the participating countries; and to all those who set him on his path. With Cary Fowler's optimism we do feel that there is light at the end of the tunnel, albeit in a bomb-safe bunker for seeds between Norway's mainland and the North Pole. Cary Fowler speaks to both experts and laymen. It is why SEEDS ON ICE: Svalbard and the Global Seed Vault should be twenty-first century required reading for all of us, because what are we going to do if the seeds run out?
"ABBIE ZABAR, a life member of NARGS, has been a member of the Manhattan Chapter of NARGS since 1996. Her very well anchored rock garden grows in small troughs, terra cotta vessels and hypertufa forms on a challenging parapet ledge fifteen stories above NYC's second busiest crosstown street. She is the author, artist and designer of five books. In 2014 Abbie Zabar received the Carlton R. Worth Award for distinguished writings about rock gardening and rock garden plants in a book or magazine articles."