Riddle of The Tsangpo Gorges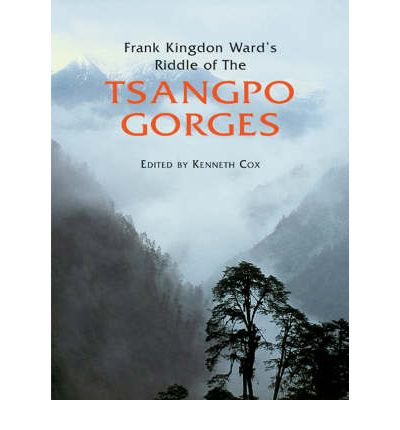 Frank Kingdon Ward Riddle of The Tsangpo Gorges, Edited by K. Cox, K. Storm, and I., Baker. 2008, The Antique Collector's Club Ltd., Suffolk, England.
Amazon: $47.17 – $979.00.
As the plane banked to the west I caught a flash of light from the golden roof temple thousands of feet below, we descended further over the mirrored rice paddies and touched down. I was now in Asia and the small village of Ban Non Somboon in North-East Thailand would be my home for the next three years. I was launching my career as a horticulturist for The Royal Thai Government.
It was a lonely existence at first, a foreign land, language, strange foods and customs and the hardship of sporadic electricity and infrequent water in what I would later consider a normal Thai house. Weeks later as I made the 11 hour bus ride to Bangkok for a meeting. I went hunting for English reading material. Through one of the cloying market sois I found a bookseller with a few old English titles and in disbelief my eye landed on Pilgrimage for Plants by F. Kingdon-Ward published in 1960. At the time in 1987 I paid a hefty 200 Thai baht for it, the equivalent of ten meals in the market. However it brought me much solace through the dark tropical nights as I reminded myself of the people like Frank who came before me and endured even greater hardship with maniacal determination in pursuing their Pilgrimage for Plants.
Thus I was delighted to be asked to review Kingdon-Ward's book the Riddle of The Tsangpo Gorges originally published in 1926 the 2008 edition retraces his journey through South-east Tibet in 1924-25. When it arrived in the mail I knew I was in for a 'task' for it is a large tome of a book, 9 X 12 inches with some 335 pages however it stood apart from other historical reprints I have read in that the original 54 black and white photographs are interspersed with over 250 recent colour images taken by the editors. This in itself presents a very modern and enticing book to browse for both the historian but also the botanist; there are 94 Rhododendron, 43 Primula and 15 Meconopsis species and over 94 other genera showcased both through images and text.
It is a serious read for those who wish to learn since it is written and edited by those who know their stuff. The book traces Ward's journey in meticulous detail, both through his daily life struggles through a rich, diverse, and at the time, a botanically unexplored part of the planet.
Why should plant people read this book? In understanding where plants come from we can possibly emulate those conditions in our own gardens and reap the botanical rewards that Ward fought so hard to secure. The editors have done a brilliant job in capturing the incredible flora of the region and offer succinct comments on their relationship to Ward and the plants current place in today's modern gardens. On page 209, describing Rhododendron pemakoense, Kenneth Storm Jr. mentions the connection of the plant to Ward but also highlights its parentage in several of the dwarf hybrids of the Glendoick series that are grown in gardens today.
On page 197 a caption below a photograph taken in 1993 shows the modern expedition with backpacks on the outskirts of the Village of Gyala. Ward at the time writes "When we reached Gyala, itching to be off, a difficulty arose. The local Baron, who lived in Heath Robinson House, had indeed promised us every assistance; he now informed that he could not supply the transport". The editors experienced their own challenges in retracing Ward's steps, but did so with all the modern conveniences of today's society, which they have deftly assimilated with the 1924-5 expedition.
The editors in contrasting and enhancing Ward's original writings and photos have become co-authors in Riddle of The Tsangpo Gorges, creating a historical-modern fluid read. It is as if they were walking beside him, not following in his footsteps some 63 years later on what was considered Ward's most seminal botanical expedition.
Michael S. Pascoe is a Professor and Academic Program Coordinator in the Horticultural Technician and Apprentice Horticulture Programs and Director of Gardens at Fanshawe College and A. M. Cuddy Gardens, London, Ontario, Canada