A Rage for Rock Gardening: The Story of Reginald Farrer, Gardener, Writer & Plant Collector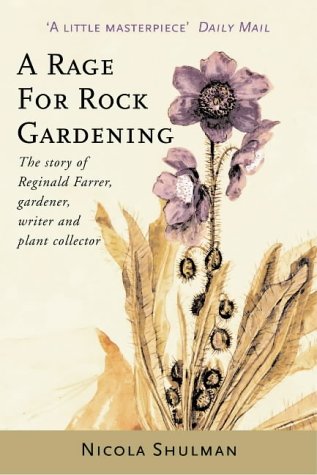 The book added a great deal to my understanding of Reginald Farrer's personality, but rock gardening, in spite of the title, was not a primary focus of this book.
It presents a thorough picture of the social and family world that shaped him, along with his physical limitations. My impression was of an author who felt sympathy for a not very likable person.
She discusses his profound impact on garden writing and his relationships with some of the famous gardeners of his time.
The book covered quite fully his plant hunting expeditions, again expanding our knowledge of Farrer the person.
I enjoyed it very much but I was never sure what audience she was aiming at.
Reviewed by Kendall McLean, who lives and gardens outside of Seattle, WA and belongs to the Northwest Chapter, of which she is the newsletter editor. She loves to read and to collect plants, and hates to weed.
Ed. Note: Reginald Farrer (1880-1920) was born into a well-to-do family in Yorkshire England. By 10 years old he was a well-qualified field botanist. He had been homeschooled due to a speech defect. At 14, he made his first rock garden in an abandoned quarry. From there he went to Oxford at 17, and lived for 8 months in Japan after graduation. His first book, The Gardens of Asia, was published in 1904. From Tokyo he explored China, Korea and Japan. My Rock Garden was published in 1907 in England. His other books resulted from explorations in Italy and China. He died while on a China expedition with E.H.M. Cox, and is buried in Konglu.
Growing Winter Hardy Cacti in Cold/Wet Climate Conditions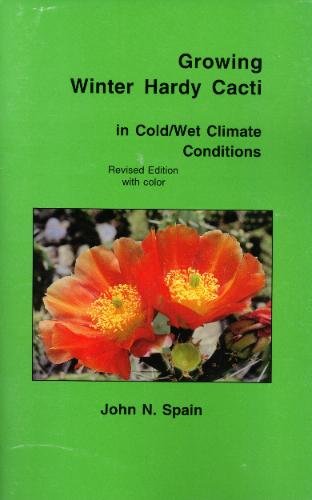 Growing Winter Hardy Cacti in Cold/Wet Climate Conditions, John N. Spain, Elisabeth Harmon, Watertown, CT (enlarged edition: April 1, 1997); 71pps, color illustrations, pamphlet; Amazon price: $19.95.
GOOD: 1) Easy to read; 2) Excellent Drawings
BAD: 1) Written for very Specific Climates; 2) Few photographs
Living in the West, every cactus that can take winter's subzero temperatures thrives outdoors in my garden. This turns out not to be the case in the East and other cold more humid climates around the world. Luckily, Growing Winter Hardy Cacti in Cold/Wet Climate Conditions by John Spain covers cultivating these amazing plants in just such areas.
The book covers many important topics in great detail, especially constructing an adequate garden. This is one of the most important parts of winter hardy gardening even in the West. Spain describes everything from selecting a location and plants to preparing the bed. Outdoor cactus gardens require care year-round, mostly in the spring and winter. What should be done in these two seasons is listed each in its own section. The propagation of both opuntioid and ball cacti is explained as well. Most topics are also illustrated with excellent line drawings and diagrams. The text is easy to read and understand and very thorough. The center section is filled with profiles for twenty-five favorite winter-hardy species and hybrids. The descriptions and background is very complete and interesting to read.
The major thing the book lacks is photographs. There is a small color section in the middle. These pictures are very good, but unfortunately they focus only on the flower of each plant. While the flowers are the most rewarding part of growing cacti, the plants are important as well. Pictures of different garden designs in different seasons would also be very helpful in planning a garden.
The cultivation of many species depends greatly on climate. If you're in a cold and humid place and interested in growing cacti, there is no better book for you. If you're not, find a book that's better suited to your climate.