Planting the Dry Shade Garden: The Best Plants for the Toughest Spot in Your Garden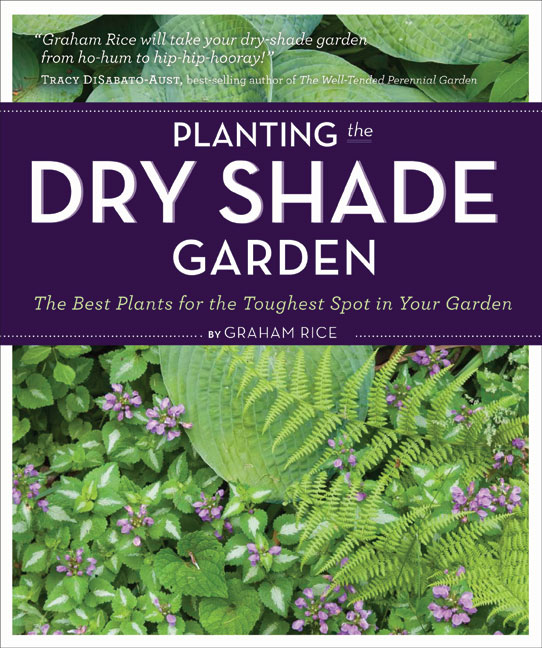 The words 'dry shade' may strike fear in the heart of almost any gardener. Well, help is at hand.
Graham Rice is a well-known garden author, who spends time gardening both in England and Pennsylvania. He has written what is probably the first book in many years focused on plants which will grow and thrive in dry shade, the most inhospitable part of any garden.
The first part of the book is a very well thought-out discussion of shade — dry or otherwise — and its causes, especially that cast by trees. Various lists of trees (dense shade, light shade, early-leafing, late-leafing) are given, along with the worst shade trees. Then comes a section which focuses on reducing shade and methods of improving soil and moisture like mulching and irrigation.
The major part of the book describes in detail about 130 plants, and consists of sections for shrubs, vines, perennials, ground covers, bulbs, and annuals. Each species profile includes a detailed botanical description of the plant, its adaptation to dry shade, notes on cultivation, and the plant's visual effect in the shaded area. Each entry includes a bright full-page color photo of the plant in its natural habitat. The description ends with a list of the available cultivars of each plant.
While the book has fewer plants listed than most other books written about shade gardening (by George Schenk, Ken Druse, eg.), the photos along with the vivid, well-written descriptions will tempt the imaginative gardener to try out the selected items. Some of them will be new to most gardeners, such as Danae racemosa (Poet's Laurel), Trachystemon orientalis (Abraham-Isaac-Jacob), and Pentaglottis sempervirens (Green Alkanet). The book is also enjoyable in that the writer has a well-developed sense of humor. For example, writing about Hemerocallis fulva 'Flore Pleno,' he says: "And as an added bonus its large flowers and additional petals make this the best daylily to eat stir-fried."
This book fills a space in the gardener's bookcase which has been empty for too long.