Phlox: A Natural History and Gardener's Guide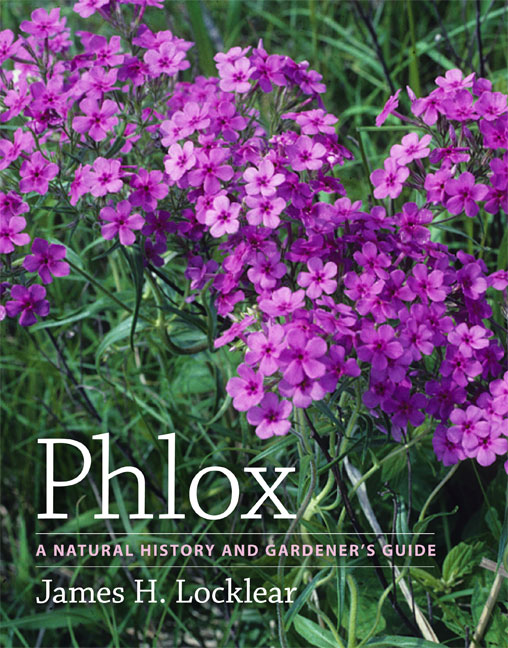 Phlox: A Natural History and Gardener's Guide, James H. Locklear, Timber Press (March 9, 2011), 340 pages, 73 color photos, hardcover; publisher's price: $49.95; Amazon price: $36.46.
Rock gardeners have been wishing for a comprehensive book on the genus Phlox for a long time. Phlox is one of those backbone plants of the rock garden which every gardener, novice or expert, includes in their plantings. However, definitive information about the genus was fragmented in journal articles, catalog descriptions, etc. With the publication of James Locklear's authoritative work, the wait is over. Jim signed a contract with Timber Press in the late 90's to write a book on the genus Phlox and embarked on a 10-year odyssey which resulted in this wonderful book.
The book is divided into two sections. The first section contains a botanical history of the genus, a horticultural history and finally a botanical key to the genus. The research here is extensive and the reader comes away with a good picture of the discovery of the various species of this North American genus and how they have been distributed in gardens around the world.
The second section profiles in detail all sixty-one species. The profile for each species includes a general description, a detailed botanical description, its geographic range, the environment in which it grows (including geologic features and soil types), plant communities with which it is associated and notes on garden cultivation. There are wonderful color photos including both close-ups of the plants in flower and photos of their natural habitat. A listing and description of the available cultivars of Phlox in the nursery trade would be useful.
Usually when I read this kind of book, I linger over the introductory and historical sections and then skim through the species descriptions to find the ones in which I am most interested. But I was so taken with Mr. Locklear's prose in the general descriptions of the species that I couldn't wait to turn to the next to read his vivid descriptions of the flora, fauna, geology and human interactions that accompanied each one. I haven't had this much fun reading a botanical book since Claude Barr's Jewels of the Plains.
NARGS members can be proud that the Norman Singer Endowment Fund provided grants to assist in the research for this book. It is certainly a book that every rock gardener will want to have in their library.