The Pacific Northwest Garden Tour: The 60 Best Gardens to Visit in Oregon, Washington, and British Columbia, by Donald Olson; Timber Press (2014), 300 pages, paperback; publishers price: $24.95, Amazon price: $17.60.
The Pacific Northwest Garden Tour: The 60 Best Gardens to Visit in Oregon, Washington, and British Columbia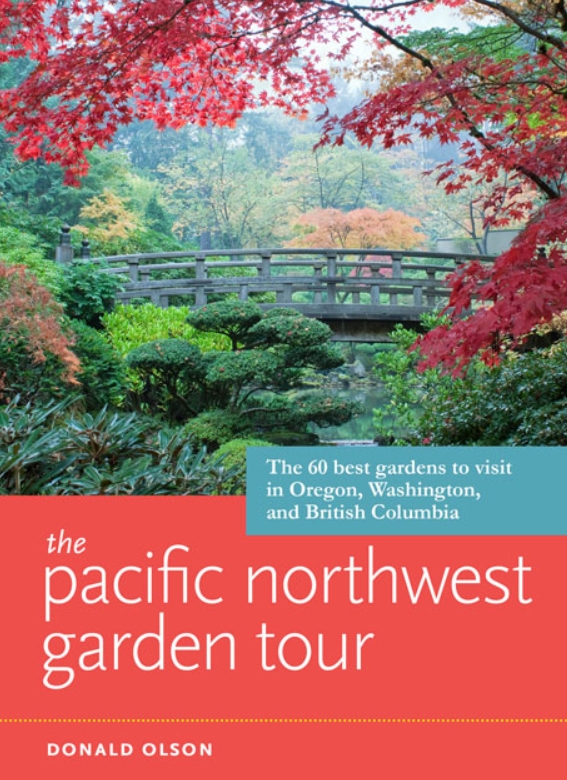 Let me say upfront. I was prepared to like this book before I ever set eyes on it. The book sounds like a gardener's dream…especially for someone like me who lives 3,000 miles away from the Pacific Northwest and has visited this part of the country only once (ahem) – let's say, many years ago.

One might expect this to be an over-sized coffee table book, which it is not, but rather a modest-sized paperback that would be very packable as a traveler's companion and guidebook.

Written with the eye of one who gardens (although Mr. Olson is most noted as a travel writer, playwright and novelist), the book is helpfully arranged by state and clustered around three urban centers.

This selective list of sixty includes world-class arboreta, century-old parks, once-private estate gardens, and commercial nurseries with exceptional display gardens. As the author states, "I've been both inclusive and selective in my garden choices…weeding out [love the pun] those that aren't worthy of an hour or two."

Many of the gardens highlight plants that the Northwest is noted for – rhododendrons, roses, and conifers - yet there is no lack of diversity. Given the climate, there are certain to be gardens of interest at virtually any time of the year.

The author devotes four pages to most gardens, with enticing photos that leave you wanting to see more. The "information at-a-glance" notation for each garden includes such basic information as address, phone number, website, and hours but also includes helpful notes about accessibility, best time of year to visit, and permissibility of dogs. Many of the gardens can be visited for free.

While most gardens are designed in familiar Western styles, four Japanese gardens are listed (two in Seattle) and considered by many as the best examples of Japanese gardens outside of Japan. For a completely different garden style, three Chinese gardens are listed, one of which is still under construction, with completion projected for sometime in 2018.

Some gardens offer wonderful views of the borrowed landscape beyond, whether that be mountains, ocean, or cityscape just to remind you that you are after all in the Northwest Pacific.

The author reminds us that these are relatively new gardens and includes a brief history of each for an added perspective. I was fascinated to think about how so many of plants that can be viewed in all their magnificence today had their origins from cuttings or seed brought across country by pioneers or imported from plant explorers in the Far East. Surprisingly, aside from the native form, rhododendrons were first shipped to the Northwest in 1905. They were imported from an English nursery to display at the Lewis and Clark Exposition in Portland and henceforth created a revolution, or more perhaps revelation is a better choice of words, in garden design.

If you are planning to visit the Pacific Northwest, this book is a good resource for selecting gardens to visit (if only one could see all sixty!) and will make a good travel companion. If you aren't planning to visit, then perhaps the book will entice you to do so…soon.

As the author states, "Yes, it's true, from November through May there is rain, lots of it, in every form you can imagine. And yes, the skies are sometimes dark and gray for weeks on end. All I can say to that is, so what? If you're a plant, or a gardener, this is paradise."
Carol Eichler is a long-time member of the Adirondack Chapter NARGS, currently serving as Newsletter Editor, though she has held a number of other leadership positions including Chair on two different occasions. Until now she's been a "trough" rock gardener but, much out of necessity, she is building her first rock garden in the crevice style, with much thanks to her non-gardener but construction-oriented husband Steve.