The Modern Cottage Garden: A Fresh Approach to a Classic Style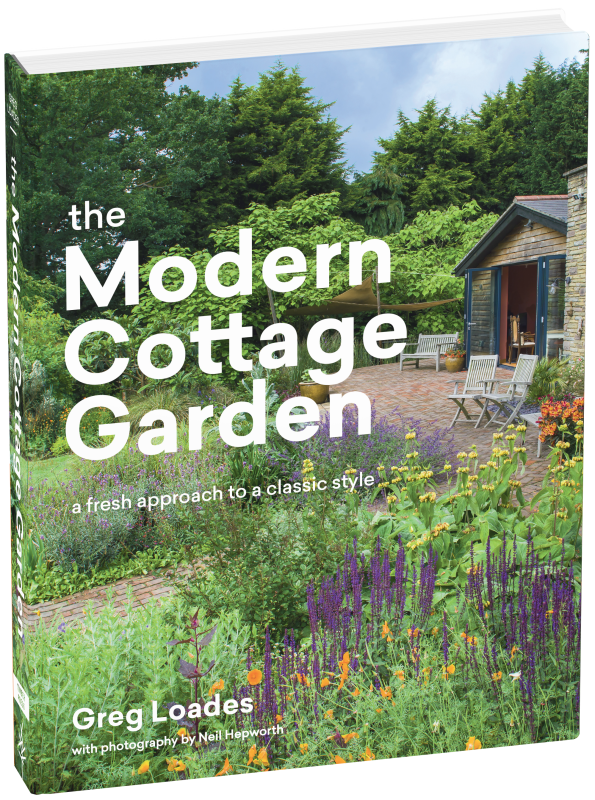 The Modern Cottage Garden: A Fresh Approach to a Classic Style
by Greg Loades. Portland, OR: Timber Press, 2020. 228 pp.
$24.95 list $14.69 Amazon.

The Modern Cottage Garden offers useful information, illustrated by inspiring photos, and is written in a friendly, accessible style. The author Greg Loades presents his theory that a new garden style has emerged from the fusion of the new perennial garden and features of the cottage garden, and then proceeds to tell how to create and maintain these gardens.

In the modern cottage garden, the signature perennials, grasses, and shrubs of the new perennial garden intermingle with cottage garden annuals, roses, herbs, and vines, and are allowed to reseed and grow densely. Here experimentation is encouraged, and impulse purchases are welcomed, as well as soft colors, roses, heirloom plants, nostalgia, and romance.

Greg Loades, a freelance writer, and Editor of The Alpine Gardener:Quarterly of the Alpine Garden Society, has been Deputy Editor of The English Garden and Gardening Editor for BBC Gardeners' World magazine and Garden News. Throughout this book, Loades shows himself to also be a practical hands-in-the-dirt gardener with his planting demonstrations set in his own small urban garden in Hull, Yorkshire.

In the first chapter, "Roots", Loades presents a potted history of cottage gardens that barely mentions the original cottage garden that dates from some 1500 years ago. Entire credit for its late 1800s revival is attributed to Gertrude Jekyll and William Robinson, key figures in the English natural landscape, but later both Robinson's and Jekyll's major roles in the development and popularity of herbaceous perennial gardens and borders are omitted.

Dutch and German influence is never mentioned in the section on the new perennial garden. Noticeably absent are Karl Foerster (1874-1970) and the Dutch icon Mien Ruys (1904-1999), who was Piet Oudolf's mentor. Oudolf's work and meadow garden at Scampston Hall, Yorkshire is discussed in depth.

Most useful to understanding Loades' theory is the explanation of the changes to the beautifully redesigned wide borders at Newby Hall, Yorkshire, by the former head gardener Mark Jackson. This section clarifies many of the points that Loades makes in his introduction by showing characteristics of the cottage garden melded into the iconic perennial border.

In a section for small gardens, Loades offers planting suggestions and design tips for making a small garden seem larger, as well as plant groupings for small spaces. Loades' sections on containers and hanging baskets feature innovative combinations of plants and include step-by-step creation of containers with recipes. Loades concludes his book with "50 essential plants" for the Modern Cottage Garden.

The New Cottage Garden will be of most interest and use to avid gardeners without extensive experience and those with small spaces. They will especially find "A Year in the Modern Cottage Garden" instructive. Other readers will find Loades useful tips and Neil Hepworth's delightful photos interesting and enjoyable.

Susan E. Schnare, DPhil lives and gardens at her family farmstead in rural New Hampshire, where her interests are generally in plants, animals, and architecture with particularly warm spots for primroses, collies, and old houses and gardens. Her studies in Plant Science and landscape history left her with a fascination with the early botanists.