The Layered Garden: Design Lessons for Year-Round Beauty from Brandywine Cottage and A Year at Brandywine Cottage: Six Seasons of Beauty, Bounty and Bloom. Both by Davd Culp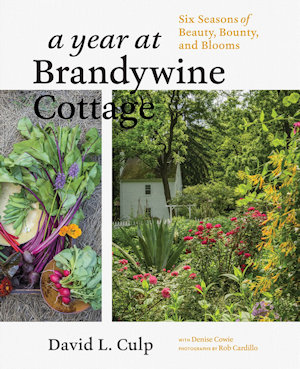 The Layered Garden: Design Lessons for Year-Round Beauty from Brandywine Cottage Timber Press: Portland, OR, 2012 $34.95 list, $26.69 Amazon and A Year at Brandywine Cottage: Six Seasons of Beauty, Bounty and Bloom Timber Press: Portland, OR, 2020. Both by David Culp
It's February and I'm hungry for spring. Spring won't come for another couple of months here, so I whet my appetite with inspirational gardening books. One of my favorites is The Layered Garden: Design Lessons for Year-Round Beauty from Brandywine Cottage by David L. Culp with Adam Levine. As I page through the utterly gorgeous photos in this book, it is comforting to know that Culp has a slow-filling well and rarely waters anything, or uses chemical fertilizers or pesticides. He gardens within the restrictions of his land, and believes that "any resourceful gardener can come up with a satisfying palette of plants that will thrive on any particular site."
The trick is to pay attention to what the garden is telling you, "to love what loves us back, and not to covet what loves the gardens of others." In other words, grow more of what does well for you. Culp is a plant collector, so when something does well for him, he tends to explore the genus thoroughly, planting every species and cultivar he can find, and in the case of hellebores, breeding more of his own. There are many intimate plant vignettes in his garden, but I particularly studied how he incorporated a one-acre hillside into his design, as our back deck faces a hillside and I would like to add more visual interest there. You may be more interested in plants he is able to grow under black walnut trees, but rest assured you will learn something new as well as feast your eyes.
I received that book seven years ago and it's still one of my all-time favorites. I re-read it at least once a year, and often more frequently, for the gorgeous photographs and the exuberant love of gardening that comes through in the writing.
But I've always found the book a little frustrating for the plants left unidentified. Yes, that golden-leaved lily-of-valley on page 38 looks fabulous with the yellow-flowering Trillium luteum, but what is the name of it? And The Layered Garden wasn't organized chronologically, so it was sometimes tricky to keep track of what happened when.
Enter A Year at Brandywine Cottage: Six Seasons of Beauty, Bounty, and Blooms, David Culp's second book. I think of this as the companion volume to The Layered Garden. Organized chronologically through the seasons, A Year at Brandywine Cottage is part gardening memoir and part lifestyle inspiration--with some recipes thrown in for good measure. The photography by Rob Cardillo is just as lovely as in The Layered Garden, and David's writing is just as chatty and heartfelt.
In October 2018 I had the opportunity to visit David Culp and his garden at Brandywine Cottage, before the publication of his second book. David talks just the way he writes in both of these books, full of enthusiasm and passion. You never know when a plant will launch him into a little story of how it came into his garden or a certain day when he found it particularly beautiful. This is part of the charm of both books: they read as rambling conversations--just as if you were walking beside him.
A Year At Brandywine Cottage introduces the newest part of his garden, the Meadowette, and an updated map is included on the endpapers. I love garden maps. I firmly believe that every book or article about a specific garden should have a map of that garden. Even better, the vantage point of each photograph should be marked on the map. (Granted, that is really only feasible in an article, not a book.) A garden map makes it much easier to understand the layout of the garden and to orient the photographs to one another.
David Culp's six seasons are Early Spring, Late Spring, Summer, Early Fall, Late Fall, and Winter. He gardens in USDA Zone 6b. In my colder climate, the months are apportioned differently, but the general sequence of bloom is the same. (February is early spring for him, but is most definitely still winter here.) He does get snow, but not persistent snow cover, and has blooms in every month of the year. My snowdrops, witch hazels, and hellebores--his winter bloomers--don't show up until March. But there is enough overlap of plants hardy to both our gardens that I don't begrudge him the few he can grow that I can't.
There is a chapter for each month. In each chapter he describes the signature plants of that month, shows how he uses the garden's bounty to create floral arrangements and the still-lives he calls taborets, and shares a few recipes. The recipes reflect his Pennsylvania Dutch heritage or are favorites shared by friends, and feature ingredients he grows in his own garden. Black walnut cookies, ground cherry pie, and sauteed fiddlehead ferns are some of the intriguing offerings.
When I finished reading A Year at Brandywine Cottage, I wished it hadn't ended. I wanted more--a sure sign of a keeper. If you are engulfed by winter doldrums, you will want to read them both. I now know the golden-leaved lily-of-the-valley is 'Fernwood's Golden Slippers,' and the hunt is on.
Note: David Culp is currently giving a series of webinars called A Journey Through Your Garden, sponsored by Garden Design. Sign up here to be notified when the next webinar is available for registration.
Originally published in The Green Dragon, the newsletter of the Adirondack chapter on Kathy Purdy's blog ColdClimateGardening.com in a slightly different form (January 2014 and January 2021) the review is reprinted here with permission. Kathy Purdy gardens in rural upstate NY and belongs to the Adirondack chapter of NARGS. Look for her article on colchicums in the Fall issue. During the indoor gardening season (aka winter) she tries to grow at least one new flowering plant she hasn't grown before. This year it's Scilla madeirensis.