The Layered Garden: Design Lessons for Year-Round Beauty from Brandywine Cottage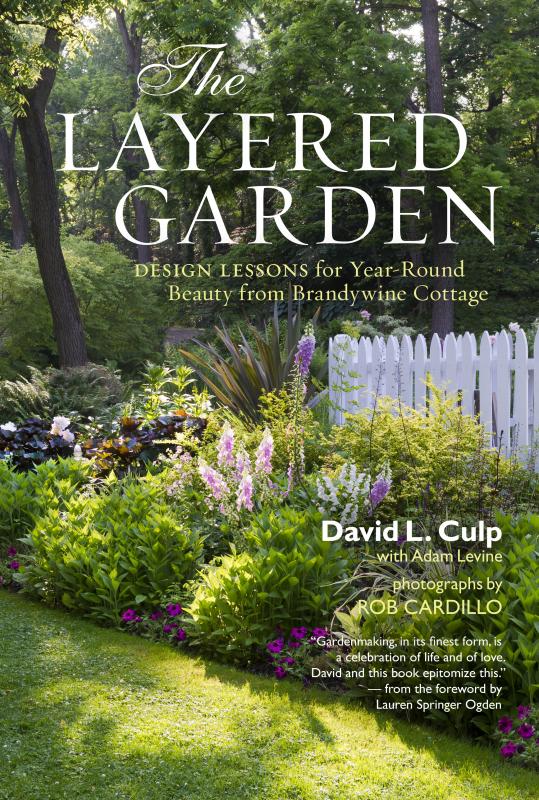 Originally published in The Trillium Newsletter, for the Piedmont Chapter of NARGS, March/April 2014.
Occasionally a gardening book comes along that is attractive enough to become one of your favorite coffee table display books, yet filled with smart prose that is so inspiring, eloquent, and informative that you want to keep it conveniently handy. The Layered Garden is one of those rare gems.
Beginning in February 1990, David Culp, with his partner, Michael Alderfer, began transforming a two-acre track of woods around a charming Pennsylvania cottage into a living lesson in patient gardening. Culp shares, "When I moved to Brandywine Cottage, I pretty much left the landscape as I found it…", rather than clear-cutting, grading, and reshaping the land. He reasons that, "If I had made all of these alterations, chances are that the soil on the hillside would have eroded and the well, which was there and working, would have run dry. At the very least, the simple historic character of the property would have been irrevocably changed, and the wildlife the garden now harbors would have been far less diverse."
Instead they started by cleaning up the property, allowing its rustic character to reveal itself gradually. Flat open sites became extensive perennial beds, allowing room for a small, tidy vegetable garden enclosed by a traditional white picket fence, and a gravel drive that showcases drought-tolerant plants.
Limbing up the healthy trees on the hillside to allow more light into the woods, Culp and Alderfer fashioned a true four-season landscape by layering this site with bulbs, wildflowers, shade-loving perennials, interesting shrubs, and complimentary understory trees.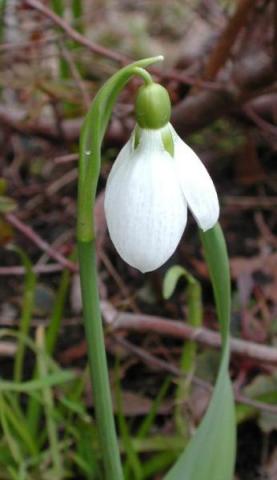 The Ruin Garden has become their signature site. This space was created where an old stone walled barn had collapsed next to their house. Here, layered gardening involves containers and troughs filled with seasonally colorful plants that are always in the foreground because of the soft gray stone walls that enclose the area. "For anyone driving up the road looking for my garden, this scene lets them know that they have arrived. It also sets the stage for what will be found in the rest of the garden – beautiful combinations of unusual plants, with hardly a space left unplanted," Culp writes.
And, what beautiful combinations they are, all captured in perfect light at their peak of glory by the extraordinarily talented photographer Rob Cardillo.
Cardillo's photographs have provided numerous views of every angle of the landscape throughout the year, each picture perfectly reinforcing the layered design principles and copious plants Culp discusses in the text. You might become more intimately familiar with this garden than you are with your own after studying these gorgeous pages, and you will recognize it from HGTV and Martha Stewart Living.
There are also luxurious plant profiles, such as a 10-page spread of photographs dedicated to snowdrops (Galanthus) shown just breaking through a sparkling blanket of snow, or with various blooms laying on a mossy rock after being collected for comparison, and shots peering upward from a mouse-eye level into a single pristine white and green bloom.
The marriage of Cardillo's masterful photographs with Culp's insightful writing makes this gardening book a true gift to yourself.
As David Culp asks the universal question, "When does spring begin?" he follows with a lyrical paragraph identifying all of the natural markers for this season. Culp ends his musings with "Even though I have seen more than fifty springs in my lifetime, when spring begins it always feels like love at first sight all over again. I feel the sap rising, the excitement of a world shaking off its dormancy and roaring back to life. In spring, a grown man's fancy turns to …well, among other things, the garden."
Culp is a well-known herbaceous perennial expert, garden writer, and lecturer traveling throughout the county as a sales consultant and new plant researcher for Sunny Border Nurseries in Connecticut. He has contributed articles to Country Living, Fine Gardening, and Green Scene, and is a contributing editor for Horticulture Magazine.
Pam Beck, of Wake Forest, North Carolina, is the co-author of Best Garden Plants for North Carolina, regularly contributed articles in Carolina Gardener magazine for 16 years, and for 5 years was a monthly garden columnist for the Raleigh News & Observer. Currently, her busy speaking schedule takes her throughout the Southeast enthusiastically sharing her love of plants, gardens of all kinds, and the people who tend them. Pam is a member of the Piedmont Chapter of NARGS.