The Know Maintenance Perennial Garden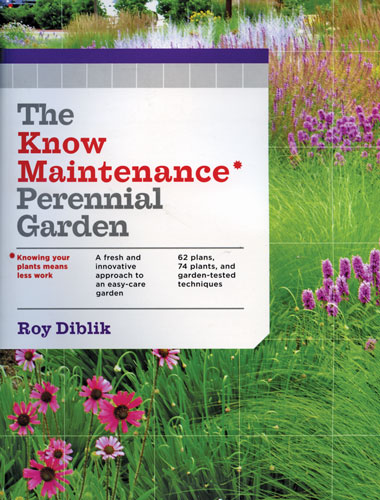 The Know Maintenance Perennial Garden by Roy Diblik. Timber Press, 2014. 240 pp. paperback.
$24.95 list
$18.35 Amazon, through the NARGS website
At first read, this book seems to be written with the beginning perennial gardener in mind. It certainly starts with the basics of gardening, presented in a very thorough and complete way. And if one were to follow Mr. Diblik's garden instructions (and that's a big "IF"), a beginning gardener should be able to create a beautiful, low maintenance garden. I'm sure some would-be gardeners are disciplined and patient planners but the ones I know are like me – impulsive, impatient, and overly ambitious.
I remember well my first foray into growing perennials. Having just bought my first house I was eager to plant some permanent flower beds. And being an experienced vegetable gardener, I felt I already knew a thing or two about growing things. So had I read this book first, I'm not sure that I would have heeded his albeit wise advice.
He offers lessons that focus on observation – observe your soil, observe the growing conditions of your garden plot, and observe the growth habits of each plant. Proper knowledge can maximize your success and minimize the upkeep of your garden.
In spite of my inclination to contradict, I found myself gradually realizing his book contains a lot of garden wisdom that would benefit experienced gardeners as well. Some of his tenets:
Too much care (for example, too much organic matter encourages weeds) might be creating more work
Placing plants with compatible growth rates together allows them to intermingle without the need for mulch
Don't be overly upset with weeds; they are plants with responsibilities
Patience is the most important quality of the good gardener
I especially liked the sections on key plants (74 of them) and garden plans (62) as well as the recommended reading section. Diblik does admit his approach is best suited to gardening in the northern half of the U.S., especially the Midwest and east as far as New York State. The look of his gardens is nature-inspired emulating prairie, wildflower meadows, bogs and woodlands.
I'm not quite ready to retire my existing gardens for a make-over, but I'm very tempted. Start, as he suggests, with a modest 10' x 14' garden plot. Choose one of his designs inspired by Impressionist paintings. Follow his plant selections, which generally include grasses or sedges as a foundation, and might take some searching to locate in the trade. Then follow his maintenance routine for the three years it takes to bring this garden to maturity. For me, it would be a very different approach and a very different garden.
But wait. Before I create another new garden I should probably heed a last piece of advice from Mr. Diblik: "Own your commitment to care and maintenance. Be sure you're telling yourself the truth. [And lastly] plant only up to your capabilities."
Carol Eichler is a long-time member of the Adirondack Chapter and the current newsletter editor, though she has held almost every chapter post. She graduated from troughs last year to build her first rock garden, planting it this year and admits to finally being fully hooked.