Hypertufa Containers: Creating and Planting an Alpine Trough Garden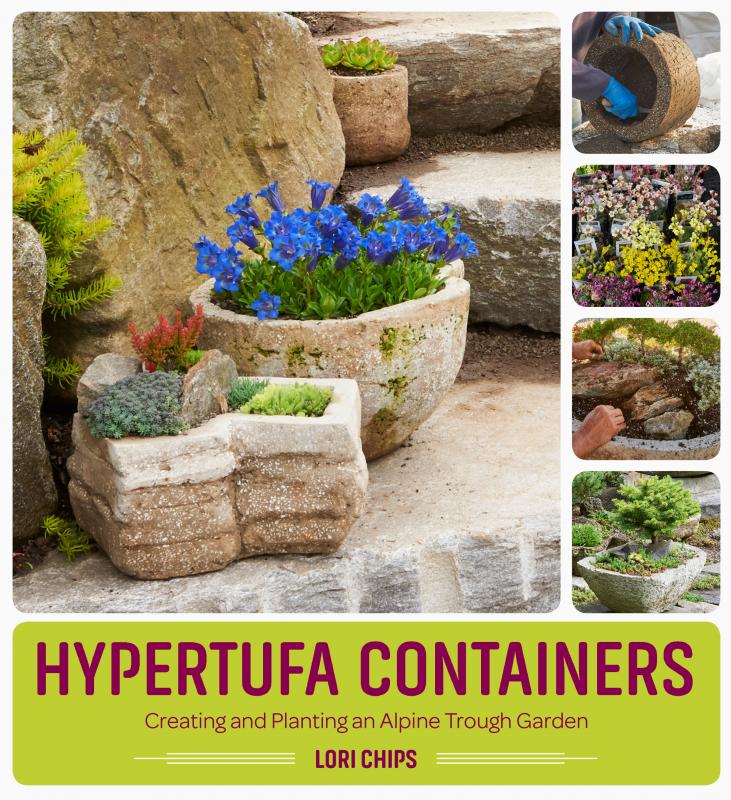 Hypertufa Containers: Creating and Planting an Alpine Trough Garden
by Lori Chips Workman Publications, Inc., 2018 256 pp., paperback.
$24.95 $21.83 from Amazon $18.50 on Kindle
This book is a complete guide to every sect of designing, making and planting fascinating, creative hypertufa troughs. If you are a total novice, Lori's clear, detailed, engaging writing will take you through every step with confidence. I'm definitely going to recommend and make a gift of this book to friends who aren't really gardeners, but would enjoy making and planting a trough to display on their patio.
If you are an old hand I think you'll still be thrilled with this book as well. I've made and planted some troughs in my day and thought I knew the process pretty thoroughly, and this book as still full of fascinating information and ideas. I not only learned a lot, but I also got excited again, seeing new techniques and design ideas that I want to give a try as soon as possible. This is perhaps the best feature of the book. Lori has managed to pull off the nearly impossible by writing a book that is for just about everyone, novice and expert alike.
After a brief chapter making the case for why troughs are so beautiful and essential in the garden, the next two chapters dive into every detail of mixing, shaping and designing with hypertufa. One full chapter is devoted to using sand molds to make troughs. I was familiar with using sand to mold troughs, but Lori lays out numerous exciting and interesting techniques and designs I had never considered before, techniques far beyond the run-of-the-mill trough building workshop.
After a chapter on soil mixes for troughs, Lori dives into planting and placing troughs in the garden. One of the best features of this book is that in addition to being an accomplished gardener and expert trough builder, Lori is also a talented designer and has a gift for communicating how to choose what style of trough to build, putting together plant combinations for troughs, placing stone and placing troughs in the garden. I'll admit I'm far more confident in my ability to grow plants than to put them together in pleasing combinations, and I greatly appreciate Lori's ideas and clear guidance in making troughs work aesthetically.
Despite the title of the book Lori includes a chapter on genuine tufa roc k that is fascinating, giving details of how to plant directly in tufa, either by drilling a hole or, in a technique that was new to me, splitting tufa and sandwiching it back together to create something like a tufa crevice that is very cool and I am anxious to try.
The book wraps up with some plant recommendations and a final chapter called "Assorted Wisdoms", full of useful hints and tidbits gleaned from Lori's long experience.
There are many books that I've enjoyed reading, but Hypertufa Containers is one of those special books that won't just be sitting on the shelf. It is going to be out with me in the garden, no doubt getting spattered and stained with wet hypertufa.
Joseph Tychonievich is Editor of the Rock Garden Quarterly and author of Rock Gardening: Reimagining a Classic Style. He lives and gardens in eastern Virginia.