A History of the Garden in Fifty Tools, Bill Laws; University Of Chicago Press (February 3, 2014), 224 pages, cloth; publishers price: $25.00, Amazon price: $19.08
A History of the Garden in Fifty Tools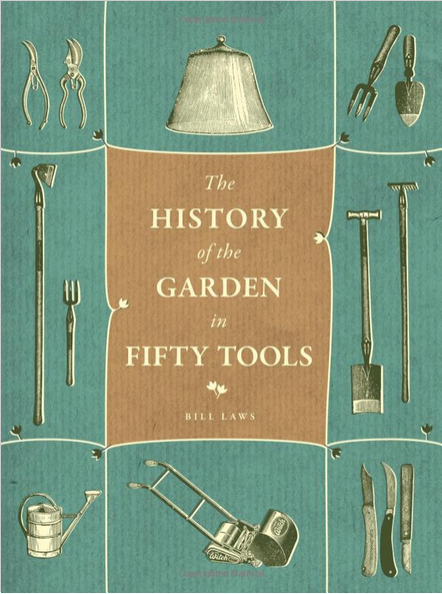 Gardeners love their tools. It may be a pair of bypass secateurs we keep in a holster and strap on each time we go into the garden, a versatile, well-made hose nozzle, or that wall of carefully hung shovels and spades and rakes - we know that our efforts in our gardens are enhanced by using the right tool.
In his "A History of the Garden in Fifty Tools" (University of Chicago Press), Bill Laws appeals to the attraction we have to the implements and accoutrements of our horticultural activities. The fifty tools he reviews range from the essential (the trowel, the rake) to the prosaic (the garden hose and plant labels) to the whimsical (sundials; the radio we might listen to while we're working). He gives each a thorough treatment, including the tool's history - he cites Ovid and Thoreau and Jane Loudon, among others - and a description of its application, including useful "Tools In Action" sidebars. These offer tips on use ("When working with a Dutch hoe, maintain a flowing, sweeping movement"), care ("Always wipe the [pruning saw] blade clean of sawdust, sap and moisture immediately after use, ideally with a lightly oiled rag"), and safety ("When using a ladder in an orchard, avoid climbing angles of more than 75 degrees").
The author is to be commended for including Latin botanical nomenclature as a horticultural tool. It is an invaluable means of communicating plant identities across time, distance, and mother tongues. He describes the botanical ambiguity of the common name 'mayflower' in an anecdote about the Pilgrims' voyage; the ship was named for Caltha palustris L. while the state flower of Massachusetts, named for that ship, is Epigaea repens L. Perhaps the author could have motivated more widespread use of the Linnaean system by reporting that Nicolas Sarkozy, then president of France, wooed the model and singer Carla Bruni with his Latin erudition as they strolled the gardens of the Élysée Palace...
The book is wonderfully illustrated, combining excellent contemporary photographs (a rustic and orderly potting shed, a daisy grubber in action, etc.) with period reproductions (from woodcuts to oil paintings to old texts). The pictures add visual charm, but also reinforce the narrative effectively, for example when we see a depiction of hoes in use from an illuminated manuscript of the 13th century A.D.
While the garden-tool enthusiast can quibble about this or that (for example, the spade is given an entire chapter, but the shovel is only mentioned in passing), overall, this is a book that is both delightful and informative to read. Some of the fifty "tools" discussed in the book may never grace your toolshed (I'm sure I'll never use a cloche), but your tool horizons will certainly be expanded by reading it.
Arle Kruckeberg is an avid gardener who lives in Wilmington, DE, a garden tool aficionado, and the chair of the Delaware Valley NARGS chapter.