Heucheras and Heucherellas: Coral Bells and Foamy Bells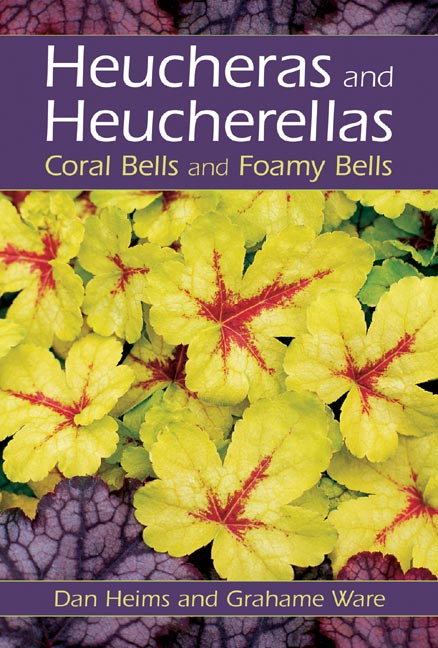 Not so long ago, most gardeners would describe Heucheras as a pretty demure group of plants. Although they have been long used in troughs and rock gardens, especially the smaller forms, they were not seen so often in the general landscape. Things have certainly changed. It is impossible to walk into any garden center today without being drawn to the bench with the most eye catching plants on the premises. These newer cultivars, with their colorful, sometimes almost gaudy, winter-persistent foliage now have a firm edge over a whole range of popular accent plants.
The subject of Heucheras and Heucherellas, which would have deserved a chapter only a decade ago, has now earned a book. Who would know this subject better than Dan Heims, creator of so many outstanding introductions through his Terra Nova Nursery? Written with Grahame Ware, a Canadian horticulturist, specialist grower, and free-lance writer from British Columbia, this is not a vanity book, but a very thorough account of Heuchera andxHeucherella aimed to inform the serious gardener.
The book begins with 116 color photos that show a full range of what is available including a few of the species. A botanical history follows including uses for "alum root" in folk medicine. Brief, non-technical descriptions of the species might provide helpful reference when scrutinizing a seed exchange list.
A list of 73 Heuchera and 17 xHeucherella introductions from Terra Nova at the date of publication prove that Dan Heims is a master of Heuchera breeding. One fascinating chapter describes his process of creating these cultivars. The various roles the hybridizer plays in his controlled breeding program are portrayed as artist, botanist, horticulturist, geneticist, and finally, judge and executioner. A roll call of others involved in the introduction of Heucheras are given due credit. Many of these individuals are well-known to the rock gardening community. A sixty eight page A-to-Z list describes nearly 400 varieties currently in cultivation, and also includes the originator and year of introduction for most of them.
The culture and care information will be intuitive for rock gardeners, considering the majority of the species involved in breeding are native to rock and crevice habitats. Propagation is covered, and diseases and pests are enumerated. The book concludes with suggestions for using them for effect in the garden and containers, along with suggested plant combinations.
Anyone with any interest in the group will find this is indeed a very thorough treatment. Advertised as the first book published on the subject, who will foresee the need for another any time soon?
Bob Bartolomei is a former curator of the T.H. Everett Rock Garden at the New York Botanical Garden and the Botanical Gardens in Nevis BVI.