Hellstrip Gardening: Create a Paradise between the Sidewalk and the Curb, Evelyn Hadden, Timber Press (April 22, 2014); 296pp, softcover; publisher's price: $24.95, Amazon price: $18.27
Hellstrip Gardening: Create a Paradise between the Sidewalk and the Curb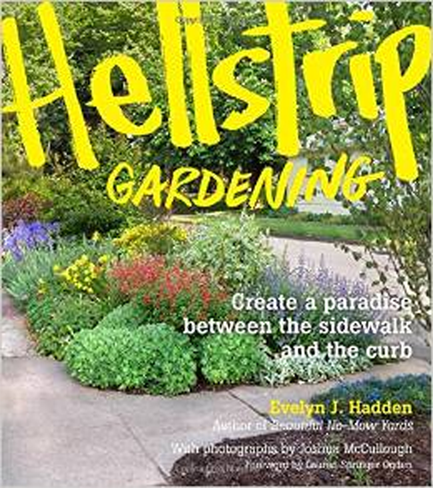 I have been gardening in my curbside space for many years. The native "soil" is clay and river rock, deposited by the ancient Missoula Floods, and endures hot afternoon sun in the summertime. My attempts at building gardens in this space have been so-so, not really nurturing my soul or my plants. With my enthusiasm for rock gardening the curbside has morphed into a crevice garden built up above the native soil. Work with what you have, not against it.
Evelyn Hadden, in her new book, Hellstrip Gardening, encourages us to use every space we have, wet, dry, curbside, adjacent to the driveway, whatever. This book is useful and enjoyable. Inspiring descriptions of the designs and problem solving of creative gardeners get us thinking. Her garden portraits range from a tiny San Francisco garden to the larger hellstrips of suburban Portland, to gardening at 6000 feet in Colorado. She tackles the challenges and obstacles we may face when gardening adjacent to public space: water run off, pedestrian traffic, city codes, vehicles, and wildlife, among many others. Her suggestions for designing, building and managing curbside gardens are creative and practical. How about building a low berm to increase drainage and reduce vehicle noise?
Portraits of possible plants for tough places include showy flowers, interesting foliage, four-season structure, and culinary/medicinal uses. Not many plants listed are appropriate for rock gardens, since many she mentions tend to spread, seed and root from fragments after being walked on. She does, however, describe one of my favorites in my rock garden: Scutellaria suffrutescens.
This book is not aimed at rock gardeners or specialists, but for all us who want to garden in challenging spaces. It is an enjoyable, valuable discussion of making gardens in tough conditions.
Barbara Strunk has a small urban garden in Portland, Oregon. After converting most of her front yard to a rock garden Barb then turned her hellstrip (see picture) into a crevice garden. She is also Co-Vice President of the Columbia-Willamette Chapter.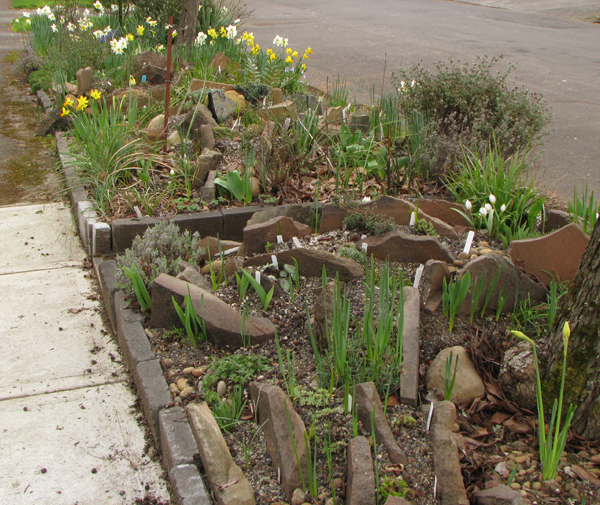 Barbara's Hellstrip in Portland