The Gardens of Bunny Mellon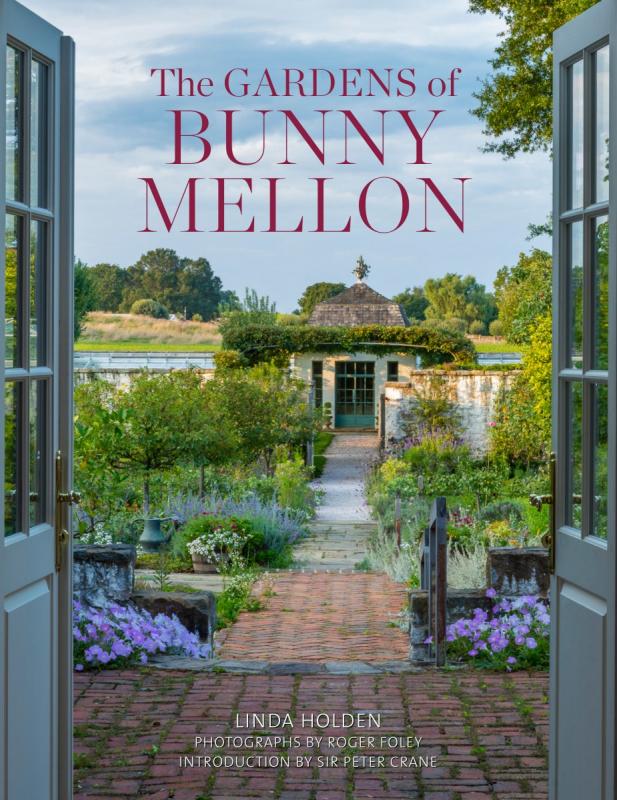 The Gardens of Bunny Mellon by Linda Jane Holden
Vendome: New York, London, 2018. 308 pages
$60.00 $34.99 Amazon
You may wonder why a book about the gardens of a wealthy socialite would be recommended for NARGS members by implication of this book review. As I learned from The Gardens of Bunny Mellon, this extraordinary woman was a hands-on gardener, a designer of many gardens, the creator and custodian of an extraordinary horticultural library, and a general force in landscape design and gardening in the second half of the twentieth century. Rachel Lambert Mellon grew up during a time when wealthy women were expected to plan menus and shop; she did these things, but went way beyond the conventional expectations for her class to have an impact on gardens, horticultural scholarship and gardening.
Bunny grew up as the daughter of a wealthy family, but early in her life asked for a small plot of land at the family home and got busy planting and tending a garden. The Lambert's garden in Princeton was designed by the Olmsted Brothers, and was an exceptional landscape. This interest in hands-on gardening was encouraged by her grandfather and tolerated by others in the family. When she finished Foxcroft, she came out in society and was expected to marry almost immediately, as young women in her circle were not encouraged to go to college. She did marry in her twenties, but before that, she learned a great deal about plants and landscapes, and designed a number of gardens for friends of the family.
Bunny and her first husband settled in Virginia, where she continued the garden-making and interest in horticulture that would continue until her death. The Second World War interrupted what had been an idyllic domestic life. The young couple had become close friends with neighbors Paul Mellon and his wife and during the war, both men served in the OSS, a predecessor to the CIA. After Mellon was widowed, Bunny divorced her husband and he and Bunny married and began fifty plus years of art and house collecting, garden making, and philanthropy.
The Mellons had a number of residences, including homes in Virginia, Cape Cod, Nantucket, Antigua, Paris and Manhattan; Bunny designed gardens and oversaw the plantings for each. Oak Springs Farm in Virginia evolved as their primary residence and became the home for her extensive library of rare garden books, encompassing over 16,000 books, manuscripts, prints, herbals, florilegia dating back to the 14th Century. When Bunny died in 2016, she left a legacy of $400 million to support the preservation and development of the Oak Springs Garden Library. She used these resources as operating manuals for her gardens, as well as valuing them as important cultural documents.
In addition to her own gardens, Bunny is known for having designed the Rose Garden at the White House. She was a close friend of Jacqueline Kennedy's and their families often got together to sail and share meals on Cape Cod. Jack Kennedy had noticed magnificent garden spaces in Europe and asked her to design a new space for the White House that could be used for ceremonial functions. Her design, featuring four southern Magnolias at the corners, boxwood and roses, survives to this day. There's a wonderful story about how she identified and reached out to a gardener, Irwin M. Williams, to come back to the National Park Service to oversee the planting and maintenance of this special space. He remained as Head Gardener for fifty years. After Kennedy's death, she designed the simple landscaping at his gravesite in Arlington National Cemetery. Her great friendship with Jacqueline Kennedy continued until her death.
Bunny was dressed by the couturier Balenciaga until his retirement, who then passed her on to Hubert de Givenchy, who became a great friend. She helped him to design the parterres and gardens at his country estate outside of Paris – Le Jonchet. He became President of the World Monument Fund and engaged Bunny and her husband as patrons for the conservation of the Louis XIV Potager du Roi, the kitchen gardens, at Versailles. Over and above providing the money for the restoration, she had significant hands on involvement in the plan. The contingent of gardeners from Versailles present at the celebratory dinner to honor the opening of these gardens clapped when she entered the room and recognized her as "one of our own."
Upon her death in 2016, Bunny provided for a continuing legacy for gardeners and gardening by endowing the Oak Springs Horticultural Library. The Oak Springs Foundation is working on restoring and maintaining the gardens there are sponsoring educational programs for scholars and gardeners alike. The abiding interest of her life and her greatest comfort was to be found in gardens and gardening, and we are better for that.
Alicia Whitaker is President of the Horticultural Alliance of the Hamptons and a member of McNARGS. Unlike Bunny Mellon, she has killed every myrtle topiary she's tried to grow. Among other things, Bunny was known for her legions of topiaries.